CORONAVIRUS
/
Taiwan biopharmaceutical firm to start COVID vaccine delivery in July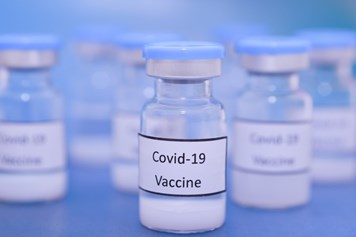 Taipei, May 27 (CNA) United Biomedical, one of three Taiwanese companies developing COVID-19 vaccines, said Thursday that it plans to apply for emergency use authorization (EUA) for its vaccine in June and start delivery in July.
United Biomedical began second-stage clinical trials for the vaccine in January, and over 4,000 participants have received the required two doses to date, a company spokesperson told CNA.
The spokesperson said the company plans to apply to Taiwan's Food and Drug Administration (FDA) for EUA of the vaccine in mid-June, and begin shipments in July.
The company has signed a contract with the Taiwan government to supply 5 million doses of its vaccines, the spokesperson said.
Medigen Vaccine Biologics Corp., another domestic company with a COVID-19 vaccine in stage-two clinical trials, told CNA that it also plans to apply for a EUA in June and that it will coordinate with the Central Epidemic Command Center (CECC) on delivery times.
Medigen's vaccine will require two doses, and the company is contracted by the Taiwan government to supply 5 million shots.
Adimmune Corp., which failed to obtain FDA approval for its stage-two trials in Taiwan, had said it was focusing on developing a vaccine against new COVID-19 variants and planned to conduct its clinical trials overseas.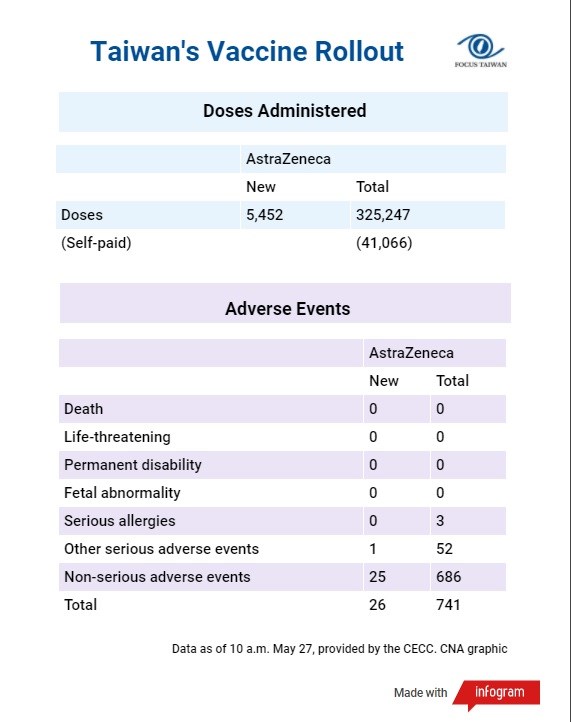 To date, Taiwan has taken delivery of three shipments of the AstraZeneca vaccine -- 117,000 doses purchased directly from AstraZeneca in March, 199,200 doses obtained through COVAX in April, and another 410,400 doses obtained via COVAX on May 19.
The country's first shipment of the Moderna vaccine, consisting of 150,000 doses, is set to arrive on Friday.
Taiwan has signed contracts with various sources to purchase nearly 20 million vaccines, including 5.05 million doses of Moderna, 10 million AstraZeneca, and 4.76 million doses of unspecified brands through the COVAX program.
A total of 325,247 people in Taiwan have received their first shot of the AstraZeneca vaccine since rollout began on March 22.
View All