Over 1,700 people in Taiwan receive self-paid COVID-19 jabs on 1st day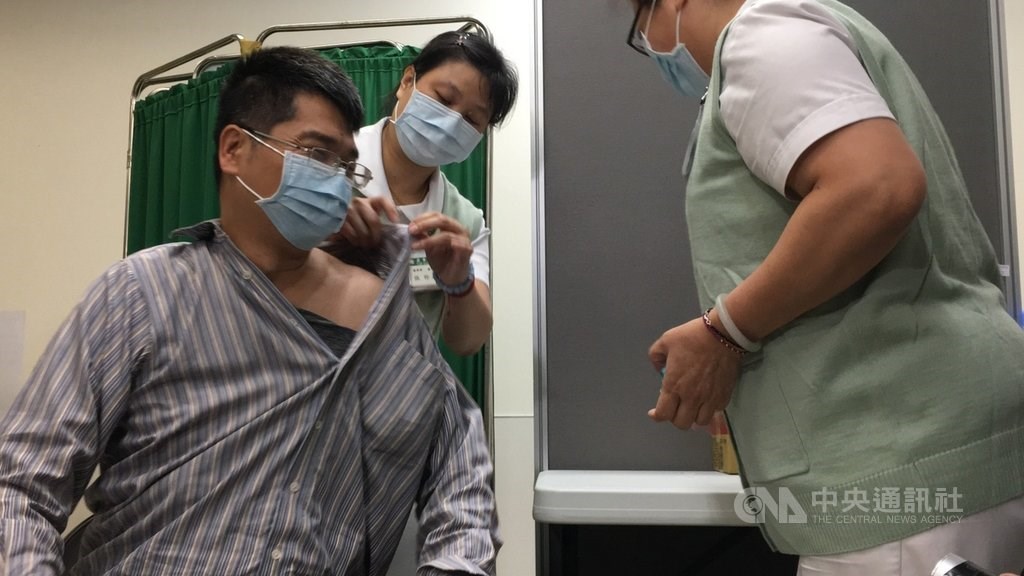 Taipei, April 22 (CNA) Some 1,732 people in Taiwan who were not on the COVID-19 vaccine priority list received their first shots Wednesday, at the start of an open self-paid program, the Central Epidemic Command Center (CECC) announced Thursday.
At one of the designated vaccination centers -- Far Eastern Memorial Hospital in New Taipei -- the first recipient was a man surnamed Hung (洪) who said his job requires frequent travel to India, Mexico and Vietnam.
"With my protection after the vaccine, my family and my colleagues will feel more reassured," Hung told reporters.
He said he was not concerned about any reactions to the AstraZeneca shot, as "the chances of suffering side effects are lower than contracting the disease."
When Taiwan's COVID-19 vaccine rollout began on March 22, only people on the CECC's priority list were eligible to receive the jab. But the CECC recently decided to open up the program to anyone who intends to travel abroad for reasons other than tourism.
The self-paid vaccinations cost up to NT$600 (US$21) per shot, while those administered to people on the government's priority list are almost fully subsidized, requiring a payment of only NT$80-NT$200.
On Wednesday, a total of 1,732 people showed up at the 31 designated hospitals across Taiwan to receive the self-paid shots, after completing a form to state the reason for their planned travel.
According to CECC spokesperson Chuang Jen-hsiang (莊人祥), another 5,483 people are booked to receive the jab by next Monday.
In light of the demand, he said, the CECC will consider increasing the 10,000 doses of AstraZeneca allocated to the self-paid program.
At MacKay Memorial Hospital in Taipei, some 120 people showed up Wednesday to receive the self-paid shots, 20 percent of whom were Taiwan-based foreign nationals who wish to visit their families back home, according to the hospital.
The first recipients were two professors, a couple who plan to attend academic conferences later this year, a hospital representative said.
The self-paid vaccines can be booked on a CECC webpage, which is in Chinese only, and no proof of travel arrangements is required.
Meanwhile, in the CECC's priority program, 34,999 people have received the COVID-19 jab so far -- only 5.6 percent of the 618,000 who are eligible, its data shows.
They include medical personnel, epidemic prevention workers, people with a higher risk of COVID-19 exposure due to their jobs, those traveling abroad on diplomatic or official business, and athletes representing Taiwan in international competitions.
Over the past two days, the number of eligible people in the priority program who have received the shot has averaged only 700 per day, according to CECC data.
In a recent poll conducted by cable television channel TVBS, 41 percent of respondents said they were willing to be vaccinated if COVID-19 vaccines are made available to everyone in Taiwan, down 7 percentage points from a previous survey in March. A total of 45 percent were not willing, up 6 percentage points, with 14 percent expressing no opinion.
Meanwhile, only 29 percent of respondents indicated they were willing to take the AstraZeneca vaccine, with 52 percent saying they were not willing.
That compares to 46 percent who were willing, and 36 percent unwilling to get the Pfizer-BioNTech vaccine, and 36 percent who were willing and 41 percent unwilling to take the Moderna vaccine.
The poll, which surveyed 1,005 adults in Taiwan between March 30 and April 6, has a confidence level of 95 percent and a margin of error of plus or minus 3.1 percentage points.
To date, Taiwan has taken delivery of 117,000 vaccine doses purchased directly from AstraZeneca, which are due to expire on June 15, as well as 199,200 doses of the same brand supplied through COVAX, which will expire on May 31.
Given the current rate of vaccination, it is likely that some of the vaccine will expire before it can be administered.
Taiwan has signed contracts to purchase 5.05 million doses of the Moderna vaccine and 10 million doses of AstraZeneca, as well as 4.76 million doses of unspecified brands through the COVAX program, which has so far allocated 1.02 million AstraZeneca shots to Taiwan.