Same-sex couples go to court to push for equal adoption rights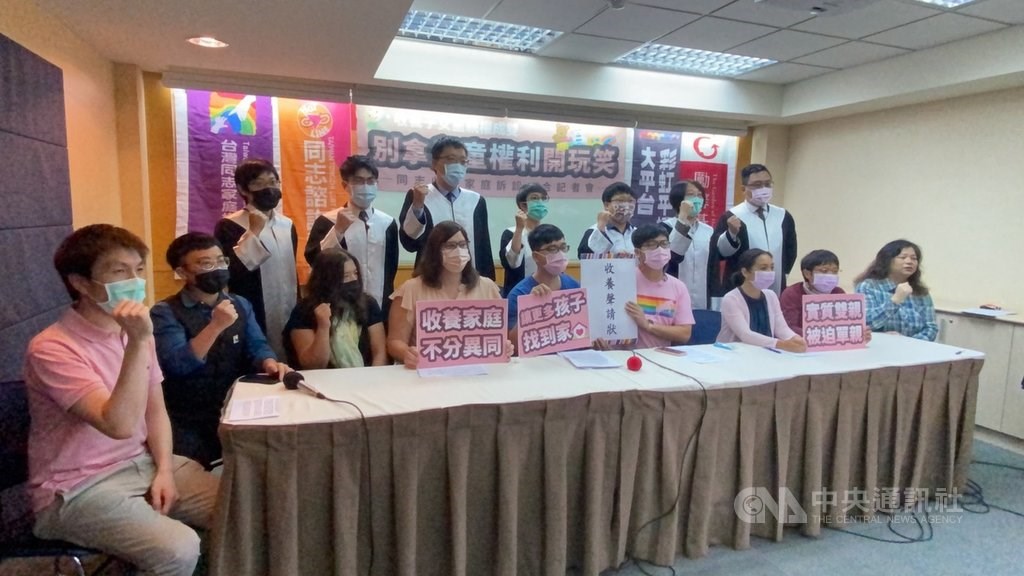 Taipei, April 1 (CNA) In order to seek a change in existing laws which forbid same-sex couples from adopting children, three gay couples and rights groups pledged to take their cases to court Thursday.
Currently, the same-sex marriage law only allows a homosexual person to adopt the biological child of their partner, said Jennifer Lu (呂欣潔), executive director of the Taiwan Equality Campaign (TEC), at a press conference Thursday.
Married homosexual couples do not have the legal right to adopt non-biologically-related children, unlike heterosexual couples, Lu said.
Gay rights groups are seeking a change to this "unreasonable" treatment of gay couples by taking legal action, added Lu.
In addition to TEC, Taiwan Tongzhi (LGBTQ+) Hotline Association and Taiwan LGBT Family Rights Advocacy also expressed solidarity.
With the help of a legal team, the three couples will file separate lawsuits at the district court, said Lawyer Lee Yen-jong (李晏榕), who spoke on behalf of the legal team.
Once the court cases have ended, the ultimate goal is to challenge the law at the Constitutional Court, said Lee, who is also a spokeswoman for the ruling Democratic Progressive Party (DPP).
Only when all legal proceedings have been exhausted can an individual who considers their rights to have been infringed apply for a constitutional interpretation, according to the law.
Currently, an adopted child in a homosexual family who is not biologically related to either parent has to have been adopted by one of the parents before they married, but the child has no legal relationship with the other parent, who is forbidden from adopting him or her, noted Wang Yue-hao (王玥好), chief executive officer of the Garden of Hope Foundation (GOH).
In other words, if the adoptive parent dies, the child may be taken away, face relocation or another adoption, which does not serve the best interest of the child, who should be guaranteed a stable childhood, said Wang, whose foundation provides adoption-related consultations and services.
DPP spokeswoman Lee Yen-jong said the current law violates the Constitution, which commits to equality of rights and the United Nations Convention on the Rights of the Child, the core values of which were adopted by Taiwan in 2014.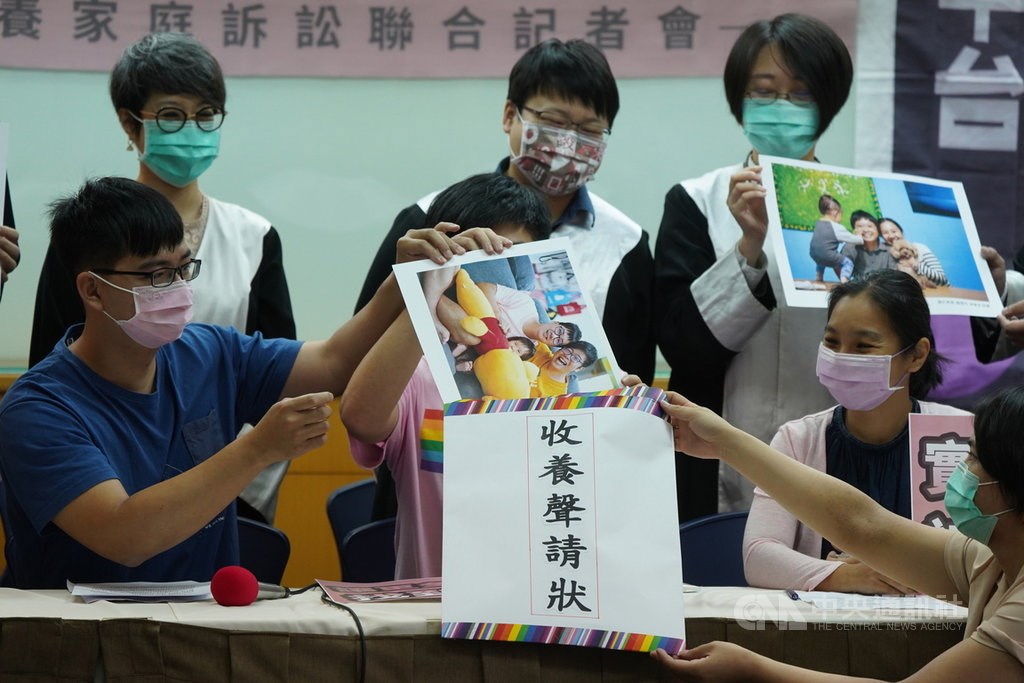 At the press conference, the three couples shared their stories and talked about why they decided to stand up for their rights.
Yi-ju (怡如) successfully adopted a son as a single mother in 2020, a decade after she had been with Yi-ling (怡伶).
According to Yi-ling, the love she gives to her son "is beyond words," though legally the two are strangers. The situation began troubling her after Yi-ju fell ill early this year.
If Yi-ju dies, her son may lose two mothers at the same time, said Yi-ling, calling for the law to be amended to ensure the rights of homosexual families.
Wang said past GOH cases show that homosexual couples are better prepared than heterosexual ones when they come for adoption consultations.
She added that even though the law only recognizes one of the homosexual couple as the adoptive parent, in practice the conduct and relationship with the adopted child of both is taken into account by authorities during home visits.
Taiwan Tongzhi (LGBTQ+) Hotline Association said gay rights groups will continue to lobby lawmakers to amend the law, but they are also exploring other ways to achieve that goal while raising public awareness.