CORONAVIRUS
/
Taiwan to ban eating, drinking on trains to curb COVID-19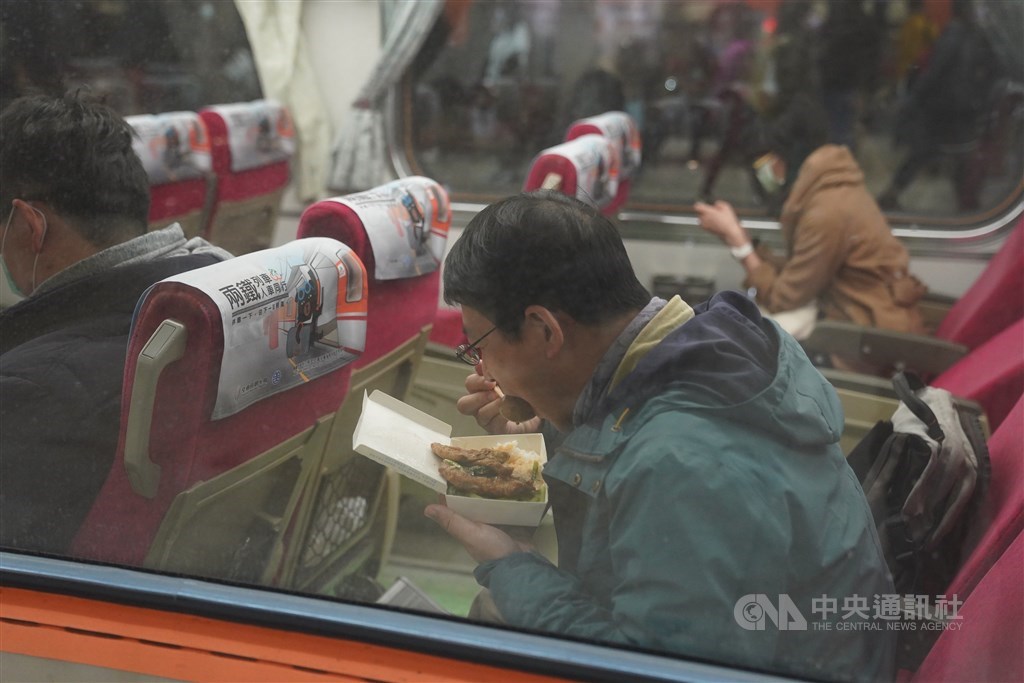 Taipei, Jan. 29 (CNA) A ban on eating and drinking on trains will be imposed on Feb. 1 to reduce the potential transmission of COVID-19, transportation authorities said Friday.
The announcement, which did not specify when the ban will be lifted, was made less than two weeks before the Feb. 10-16 Lunar New Year holiday, during which travel demand is expected to spike.
Beyond trains run by the Taiwan Railways Administration (TRA) and the Taiwan High Speed Rail Corp. (THSRC), the ban will also apply to highway buses, ferries, and domestic flights, Transportation Minister Lin Chia-lung (林佳龍) said in a Facebook post.
According to the Ministry of Transportation and Communications (MOTC), violators will be subject to a fine of NT$3,000 (US$107) -NT$15,000.
Exceptions will be made for those with health issues, breastfeeding mothers, and travelers on sightseeing trains, Lin said, and individuals taking ferries can still have food or beverages in a designated area.
Individuals with special dietary needs, meanwhile, will be excluded from the ban as long as they practice social distancing or a divider is in place between them and other passengers, Lin said.
This is not the first time the food ban has been imposed. In April 2020, the ministry prohibited eating food in trains operated by both organizations to curb the spread of the infectious virus, but the ban was lifted in June as the COVID-19 threat seemed to have abated.
Other measures will also be taken as precautions against the spread of the disease.
The high-speed rail will only offer reserved tickets and suspend the sale of non-reserved tickets, which allow travelers to stand if there are no seats available or to sit in unoccupied seats in non-reserved carriages, from Feb. 8 to 16, the minister said.
The TRA will also reduce the number of standing-only tickets it sells to 15 per carriage, Lin said.
Currently, there is no cap on TRA sales of standing-only tickets.
At the same time, the MOTC will step up the disinfection of trains, highway buses, airports, freeway rest stops and tourist destinations across the country from Feb. 8 to 16.
To date, Taiwan has reported 899 cases of COVID-19, most of which have been classified as imported.
View All