CORONAVIRUS
/
COVID-19 cases went to traditional market, burger shop: CECC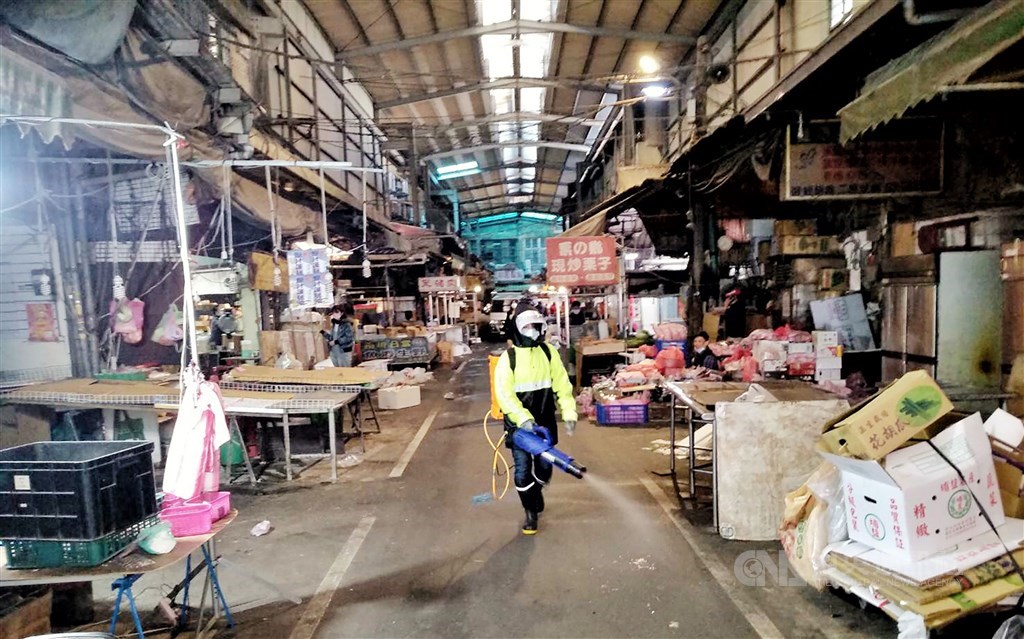 Taipei, Jan. 19 (CNA) The Central Epidemic Command Center (CECC) said Tuesday that of the new COVID-19 cases, one had visited a traditional market in Taoyuan, while another works at a Mos Burger outlet in the same city.
The two cases were both confirmed to have COVID-19 on Tuesday and are the husband and daughter of a nurse who works at Taoyuan General Hospital who tested positive for the disease a day earlier.
The husband and his wife went to Nanmen market in Taoyuan on Jan. 13 from 11:30 a.m.-12:15 p.m., and again on Jan. 16 from 11:40 a.m.-12:35 p.m, said Health and Welfare Minister Chen Shih-chung (陳時中), who heads the CECC.
The couple's daughter, with whom they live, works at a Mos Burger located at the Taoyuan Airport MRT's National Taiwan Sport University station.
She worked in the kitchen as well as at the counter from Jan. 16-18, and her only co-worker at the store is now under quarantine, Chen said.
All of the locations listed have been disinfected, according to the CECC.
Other places that the husband and daughter might have visited, as well as places visited by two other confirmed COVID-19 cases Tuesday, are still being investigated, Chen said.
Of the two other cases, one is a nurse who worked on the same ward as two other medical workers who have previously been confirmed as having contracted COVID-19, Chen said.
She tested negative for the disease on Jan. 12, Jan. 15 and Jan. 17 and only received a positive result on Tuesday after experiencing symptoms of the virus.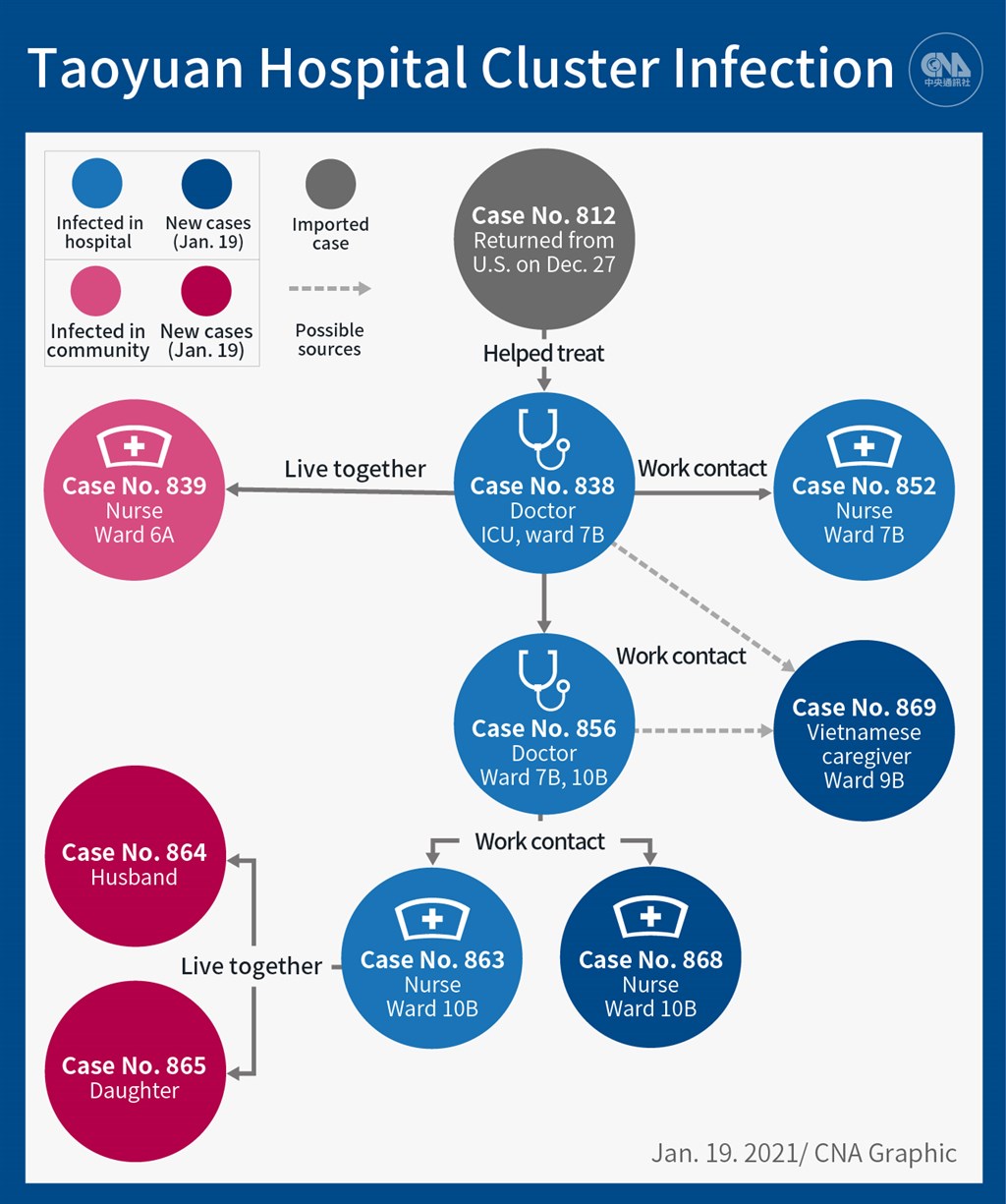 Asked why the nurse tested negative three times before being confirmed with the disease, Chen said that test results are highly dependent on timing and whether a patient had a high enough viral load at the time of testing.
The fourth case confirmed Tuesday is a migrant worker from Vietnam in her 40s who is employed as a caregiver of an inpatient at the hospital, Chen said.
The CECC is not yet certain how she became infected, although it has found that the caregiver had contact with two doctors at the hospital who both tested positive for COVID-19 in the past week, Chen said.
In response to the new cases, nearly 200 more employees at the hospital have been put under quarantine, either at home or at government-run quarantine centers, bringing the total number to 353.
A total of 220 inpatients at the hospital will be transferred to isolation rooms at different hospitals in the next two days to ensure their safety, Chen said.
According to military sources, members of Taiwan's chemical warfare troops have been deployed to help with the patient transfers and to thoroughly disinfect the hospital.
To date, nine people linked to the hospital have been confirmed with COVID-19, including two doctors, four nurses, the migrant carer, and the two family members of a nurse at the hospital.
The first case at the hospital, a doctor who was likely infected while treating a severe COVID-19 case, was reported by the CECC on Jan. 12.
Besides the four new domestic cases, Taiwan also recorded two new imported cases of COVID-19 on Tuesday, one each from the United States and Indonesia.
The case from the U.S. is a Taiwanese woman in her 50s who traveled to the U.S. to visit family in October, Chen said.
Upon arrival in Taiwan on Jan. 17, she told airport personnel that she had contact with a COVID-19 case in the U.S. and had developed symptoms. Her test result came back positive on Tuesday, Chen said.
The other case is an Indonesian man in his 20s who came to Taiwan on Jan. 5 to work as a fisherman, according to Chen.
He developed a cough while in quarantine at a government center and was confirmed to have the disease on Tuesday, Chen said.
To date, Taiwan has recorded 868 cases of COVID-19, with 764 classified as imported. Of the total, 766 patients have recovered, seven have died and 95 are in hospital, CECC data shows.
Globally, COVID-19 has infected over 95.4 million people in 193 countries and regions, with more than 2 million fatalities, according to CECC statistics as of Tuesday.
View All