Birds at Chiayi university lake hit by bird flu being culled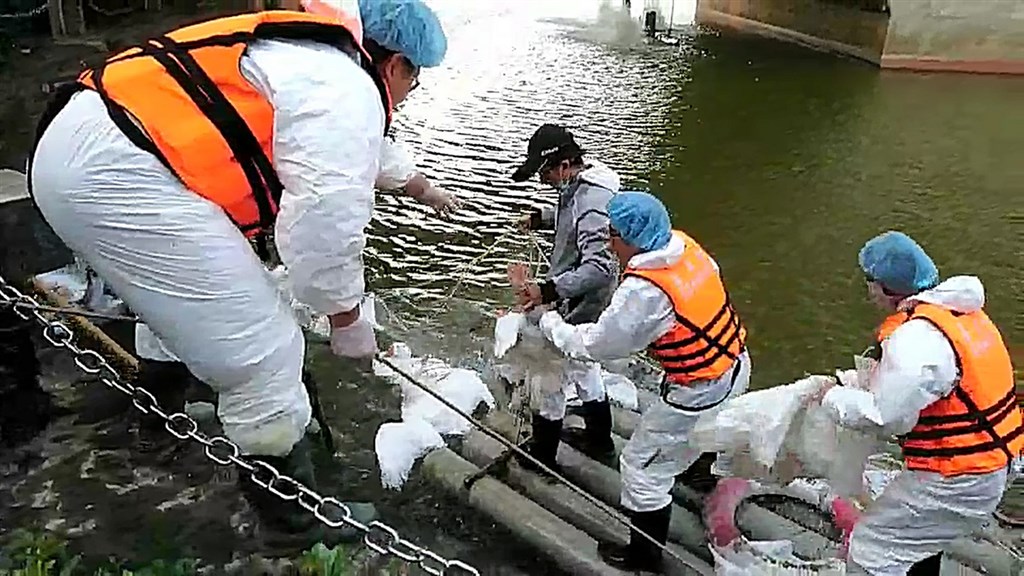 Taipei, Jan. 17 (CNA) Dozens of birds at National Chung Cheng University's Tranquility Lake will be culled after it was confirmed that a black swan that died at the lake had avian influenza H5N5, the Chiayi County Livestock Disease Control Center said Sunday.
Following the unusual death of the black swan and cases of avian flu in northern pintail ducks popping up in the Aogu Wetlands about 30 kilometers east of the school, a sample of the dead bird was sent to the center for testing, said its chief, Lin Pei-ju (林珮如).
The black swan was confirmed to be infected with the highly pathogenic avian influenza H5N5 virus, Lin said, and the center first sent workers to the lake on Jan. 13 to prevent the birds there from getting away.
In the next three days, the workers set out to catch the birds so they could be culled.
As of Sunday, 29 of the 37 birds thought to live at the lake had been caught and culled, consisting of eight white Roman geese, three Chinese geese, four black swans, seven mallard ducks and seven Muscovy ducks, Lin said.
The center, which hoped the other eight could be caught and culled by Monday, described its move as a necessary evil to control the outbreak and avoid further spread.
The source of the infection has yet to be pinpointed.
The open lake environment provides an essential habitat for geese, swans and ducks but also gives access to lake water for other wild birds, and the center suspects that the source of infection in this case could have been other wild birds, Lin said.