'Taiwan Pork' logo initiative officially launched in Taiwan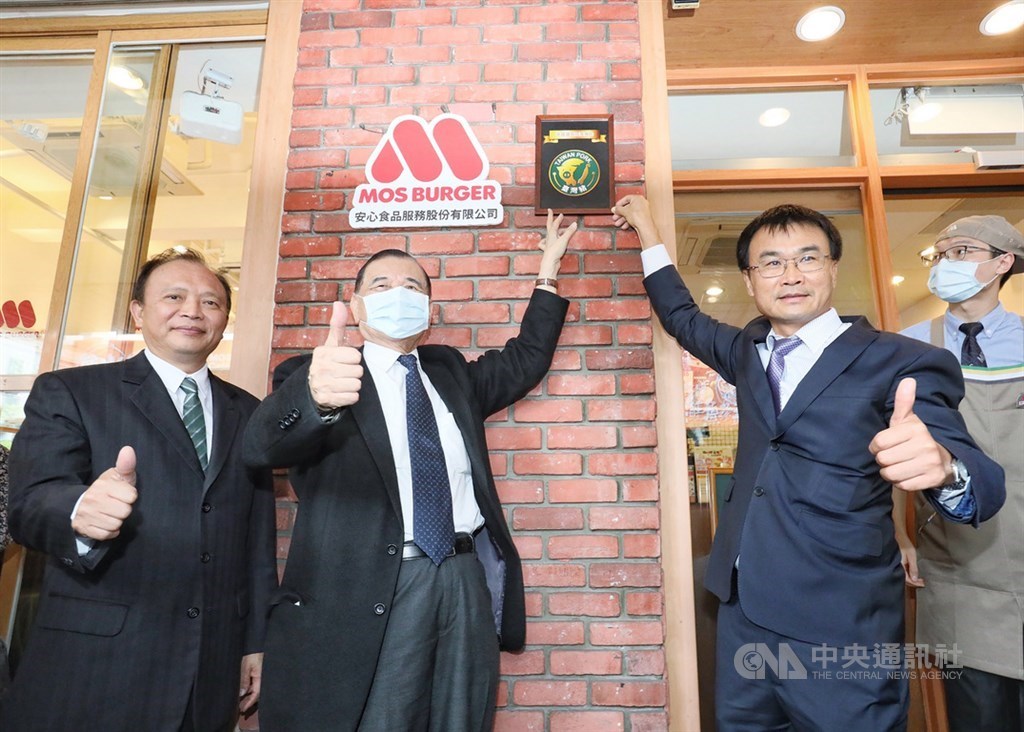 Taipei, Dec. 1 (CNA) A new branding initiative that helps customers distinguish whether shops and restaurants are using predominantly local or imported pork was officially launched Tuesday, with the first food establishment to carry the "Taiwan Pork" logo celebrated in Taipei.
The promotion was attended by Council of Agriculture (COA) Minister Chen Chi-chung (陳吉仲) and Theodore Huang (黃茂雄), chairman of the Taipei-based Teco Group, which operates the Japanese MOS Burger fast food chain in Taiwan.
The logo, which depicts a gold pig on a green background and bears the words "Taiwan Pork" in Chinese and English, symbolizes locally sourced pork covering everything from pig skin to offal, according to Chen.
Food-related operators, including pork processing manufacturers, are eligible to apply for use of the logo as long as the "main raw materials" used in their pork products are sourced locally, he said.
By that, Chen means 99 percent of the raw materials, such as pork meat and offal, with one of the few exceptions being sausage casings.
The chairman of the National Animal Industry Foundation, Lin Tsung-hsien (林聰賢), said that as Taiwan currently relies heavily on casings imported from Europe due to the large domestic demand, suppliers or eateries that sell or make sausages that use them can still apply for the logo.
There had been some 5,500 "Taiwan Pork" logo applications as of Monday, Lin said.
According to Huang, his 284 MOS Burger outlets nationwide have already received approval to use the logo.
The COA minister, meanwhile, said he expects the applications to reach more than 15,000 by the end of the year.
The branding initiative is being launched ahead of the opening of the Taiwan market next January to U.S. pork containing residue of the livestock drug ractopamine.
In August, President Tsai Ing-wen (蔡英文) announced that Taiwan would ease its regulations on ractopamine residue in American beef and pork imports, in an apparent effort to clear the way for a trade deal with the U.S.
Some critics of the decision have argued, however, that it does not prioritize the health of the Taiwan people or the interests of local pig farmers, despite the government's reassurances.