CORONAVIRUS
/
Q&A on Taiwan's new quarantine rules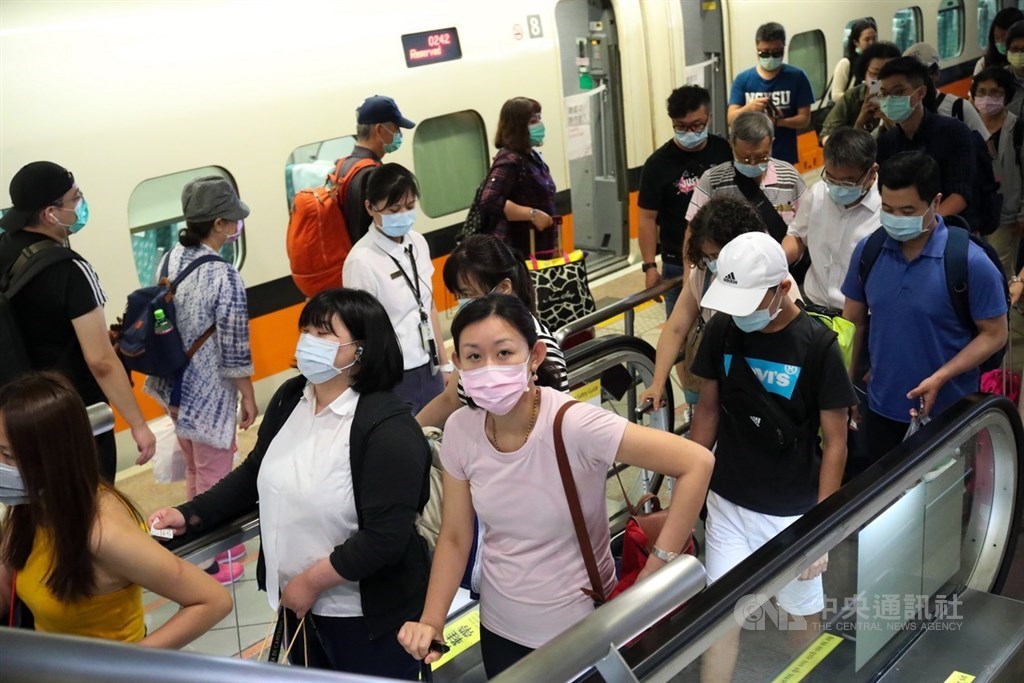 Taipei, Nov. 30 (CNA) Taiwan's Central Epidemic Command Center (CECC) will start on Dec. 1 to carry out new quarantine rules amid a surge in COVID-19 cases around the world.
The rules focus on three broad areas -- community prevention, border quarantine and medical response.
They require people in Taiwan to wear masks in eight types of venues; require that all travelers entering or transiting through Taiwan have a PCR test for COVID-19; and ask that medical facilities strengthen case reporting and testing.
The following are answers to some questions related to the new rules.  
@ What are the eight types of venues where mask wearing is a must?  

1. Medical and Health Care Facilities
Hospitals, clinics, blood donation centers; Nursing homes, long-term care institutions, senior citizen welfare center, veterans' homes, infant care centers, early intervention institutions and related shelters; Facilities for those with physical or intellectual disabilities; Other similar places
2. Public Transportation

High-speed rail trains, TRA trains, MRT trains, light-rail trains; Freeway and highway buses, city buses and taxis; Ferries and flights (including ship and aircraft cabins, seaports and airports)

3. Accommodation and Shopping Venues
Hotels, shopping centers, department stores, indoor retail markets and shops, supermarkets; Exhibition venue, furniture outlets; Pharmacies, stores selling medications and medical devices, beauty and personal care stores; Other similar places
4. Education and Learning Venues
Community colleges, learning centers for the elderly, skills training centers, study centers, social education centers, science education centers, libraries; Other similar places
5. Exhibition and Sports-viewing Venues
Theaters, cinemas; Assembly halls, sports arenas/stadiums, activity centers, indoor skating rinks, indoor swimming pools; Music halls, performance halls, museums, art galleries, exhibition halls, memorial halls; Amusement parks, children's playgrounds; Other similar places
6. Leisure and Entertainment Venues
Cruise ships, music and dance halls, night clubs, pubs, MTVs, KTVs; Beauty salons, massage parlors, saunas; Fitness centers, game centers, internet cafes; Other similar places
7. Places of Worship, Religious Venues

Temples, churches, funeral and memorial service facilities; Other similar places
8. Retail Service Locations, Offices

Banks, securities/futures outlets, insurance companies, postal offices, credit cooperatives, farmers and fishermen credit cooperatives; Telecommunication companies, cable TV companies; Government agencies and related service locations; Other similar places
@ What should do if you need to eat in the venues where people are required to wear a mask?
When dining is allowed, masks can be removed temporarily but conversations should be avoided as much as possible.
 
Masks can be removed temporarily when:
1. you can maintain a social distance from others, such as when there's no other passenger on the seat next to you in a train;
2. others within a social distance wear a mask, such as when a passenger on the seat next to you in a train wears a mask;
3. there are partitions or other forms of separation installed
@ Are restaurants included among the places where masks are required?
No. However, you should chat with others as little as possible while dining; Masks should be worn when you are not dining
@ Should you wear a mask when working out, swimming or bathing in a hot spring?
You should wear a mask before and after such activities. You do not have to wear a mask when engaging in these activities, but should maintain a social distance with others as much as possible.
@ Is wearing masks a must at schools and daycare centers?
Wearing a mask is not mandatory in classrooms, daycare centers and cram schools because people in those places are known and regularly there.
@ What if it is not possible to have infants and toddlers wear masks properly?
In this situation, parents should avoid taking their children to crowded places or on public transportation.
@ What is the punishment for failing to follow the mask rules?
Local governments will fine people who violate the rules between NT$3,000 and NT$15,000 based on the Communicable Disease Control Act.
@ What are the new rules regarding travelers coming to Taiwan?
All inbound and transit passengers to Taiwan are required to provide a record of a COVID-19 PCR test result prior to boarding their flight to Taiwan. The certificate must have been issued within three days prior to the flight.
In recent days, the CECC has specifically avoided mentioning that the test obtained needs to be "negative" because of what it has said are constitutional issues, leaving it up to airlines to decide if they want to serve a passenger or not. The general sense, however, is that the test results should be negative.
@ Can travelers still come to Taiwan if the test results are positive?
According to current regulations, it is mandatory for people who contract the virus abroad to meet either one of two conditions to return.
One condition is that they no longer have any symptoms of COVID-19 and two months have elapsed since they first started experiencing symptoms, and the other is that they have had two negative COVID-19 test results (taken at least 24 hours apart) and 10 days have elapsed since they first began to experience symptoms.
They must report their history to Taiwan's health authorities in advance. Failure to do so may result in a fine of between NT$10,000 to NT$150,000.
For Taiwanese citizens, Alien Resident Certificate (ARC) holders and Alien Permanent Resident Certificate (APRC) holders, if they contract COVID-19 while abroad and need medical assistance, they can apply to the CECC to return to Taiwan for further treatment.
@ What if travelers are unable to provide a COVID-19 test result?
Travelers must obtain permission from the airline and sit in a designated area on their flight. They have to take a COVID-19 test upon arrival at their expense and will not be eligible for any COVID-19-related subsidies. They are also subject to a fine of between NT$10,000 and NT$150,000.
Travelers will not be fined for failing to provide a COVID-19 test result under the following circumstances:
1. Those who need to visit Taiwan for emergency medical treatment; to visit close relatives within a second degree of kinship currently in critical condition; or to attend the funeral of a close relative within a second degree of kinship, will be able to board a plane to Taiwan without a COVID-19 negative test result if they show documents such as a death certificate, critical illness certificate or diagnosis certificate.
2. Those who are traveling from places where self-paid COVID-19 tests are not available: Tuvalu, Niue, Fiji, Tonga, Belize, Saint Lucia
3. Those who need to visit Taiwan for official business and have submitted an application ahead of time via local government authorities and received approval from the CECC
4. Others who have been approved by the CECC
These exceptions only apply to Taiwanese citizens, Alien Resident Certificate (ARC) holders and Alien Permanent Resident Certificate (APRC) holders.
Update: CECC announces new exemptions, fines to compulsory COVID-19 test rule (Dec. 2)
@ What information needs to be included in the test result certificate?
The certificate should be issued by a legal medical institute at the traveler's point of departure. It can be in English, Chinese, or in both English and Chinese. Travelers can hand in the certificate itself, a copy, or an electronic version.
The certificate must contain the following information:
1. The traveler's name as shown on their passport
2. The traveler's date of birth or passport number
3. The test date
4. The date when the results were issued
5. The name of the disease
6. The test method that was used
7. The result of the test
@ What are the penalties for presenting fraudulent COVID-19 test results?
Travelers who do so will be fined NT$10,000 to NT$150,000 under the Communicable Disease Control Act. They can also be prosecuted for forgery.
People who have any knowledge of passengers providing false information to gain entry to Taiwan can report them to the CECC.
@ What happens to people who need to leave Taiwan for just a few days?
Travelers who leave Taiwan and want to return to Taiwan within three calendar days of their departure will be exempt from the rule requiring international arrivals to present proof of a recent COVID-19 test. But these travelers must still go into quarantine for 14 days after they re-enter Taiwan.
Update:
■Vietnamese, Thai migrant factory workers to be tested after quarantine (Dec. 9)
■Rules announced on migrant worker accommodation after quarantine (Dec. 9)
Enditem/ls
For latest COVID-19 information: Taiwan Centers for Disease Control
View All