CORONAVIRUS
/
CECC reports 1 new COVID-19 case; 3 test positive after leaving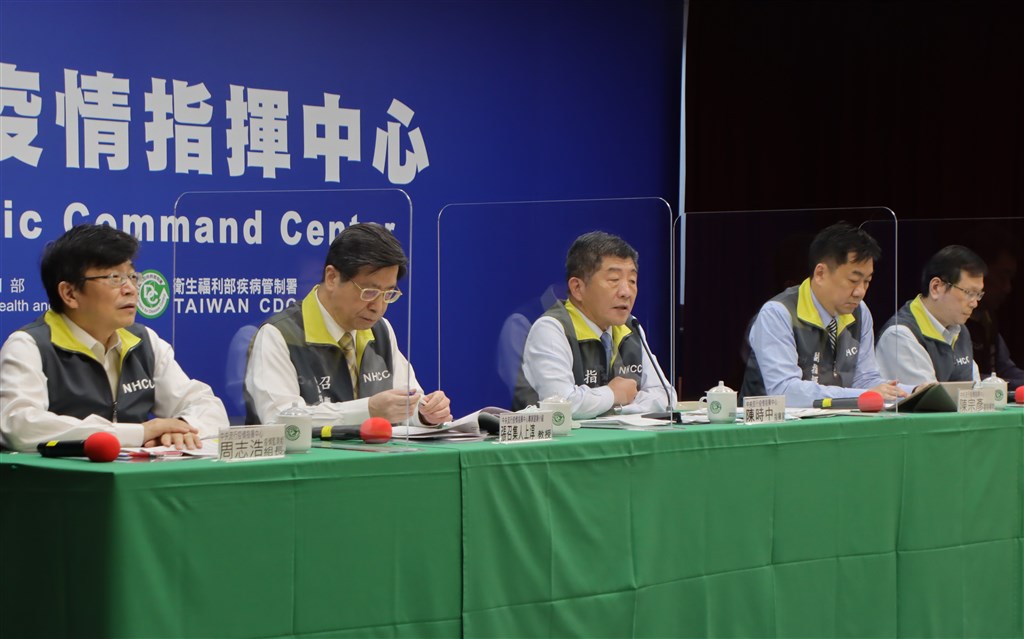 Taipei, Oct. 28 (CNA) The Central Epidemic Command Center (CECC) on Wednesday reported one new imported case of COVID-19 and said it had received notifications from Japan and Thailand of three people who were diagnosed with the disease after arriving from Taiwan.
The new patient is an Indonesian woman under the age of 20 who entered Taiwan on Oct. 7 for work and tested negative three days before her arrival, Minister of Health and Welfare Chen Shih-chung (陳時中) said at the weekly CECC press briefing.
She displayed no symptoms on arrival or during her mandatory 14-day quarantine at a dormitory provided by her manpower agency, said Chen, who also heads the CECC.
After the woman completed her quarantine on Oct. 22, she was taken for an additional COVID-19 test on Oct. 26, the results of which came back positive on Wednesday, Chen said, adding that the woman is now in hospital quarantine.
Ten other Indonesian migrant workers who arrived in Taiwan with the patient tested negative but have been asked to self-isolate, he added.
Meanwhile, the CECC said it had received International Health Regulations National Focal Point notifications from Japan and Thailand regarding three individuals who tested positive for COVID-19 after departing Taiwan.
Japan reported two of the cases -- a Taiwanese man in his 20s and a Japanese man in his 50s -- who arrived from Taiwan on Oct. 21 and Oct. 23, respectively.
Both individuals tested positive for COVID-19 after receiving polymerase chain reaction (PCR) tests at airports in Japan, said Chen, adding that both are asymptomatic and are isolating at local quarantine hotels.
According to Chen, the Taiwanese man tested negative on Oct. 14 and Oct. 20 before traveling to Japan and showed negative results in a subsequent test on Tuesday.
Authorities in Thailand, meanwhile, sent notification of a new case involving a Taiwanese man in his 60s who tested negative for COVID-19 in Taiwan on Oct. 6 before traveling to Thailand on Oct. 8.
Although the man tested negative on Oct. 11, he developed a cough and light fever on Oct. 17 and was tested again on Oct. 19, the results of which came back positive, said Chen, adding that he is currently being treated in a hospital.
After receiving the notifications, the Taiwan health authorities identified 39 people who had come into contact with the three individuals, and asked 28 of them to take nucleic acid and antibody tests.
As of Wednesday afternoon, 20 of the tests had come back negative, the results of seven were still pending and one person had yet to be tested, the CECC said.
During the press conference, Chen also announced that the CECC was invalidating case number 530 after discovering that it had mixed up the person's results with those of the 536th case, who also received a COVID-19 test at the airport on the same day.
The 530th case, Chen explained, involved a Taiwanese national who tested positive for COVID-19 at the airport after returning from China's Jiangsu Province on Oct. 11.
Despite showing a "strong positive" result at the airport, the man tested negative the following day and in a subsequent test, while also testing negative for COVID-19 antibodies, he said.
Based on the man's irregular test results, Chen said, the CECC began investigating the case, reviewing the 30 other tests taken by passengers who arrived on Oct. 11.
Using DNA testing, it found that the test sample of the 530th case had been mixed up with that of the 536th case -- a Taiwanese man arriving from France, who tested negative at the airport but was diagnosed with the disease days later.
Chen apologized for the error and said the CECC would improve its lab procedures to prevent such incidents from occurring again.
The invalidation of the 530th case will not affect the numbers assigned to COVID-19 cases, which stood at 551 as of Wednesday.
View All