CORONAVIRUS
/
Five new imported COVID-19 cases recorded in Taiwan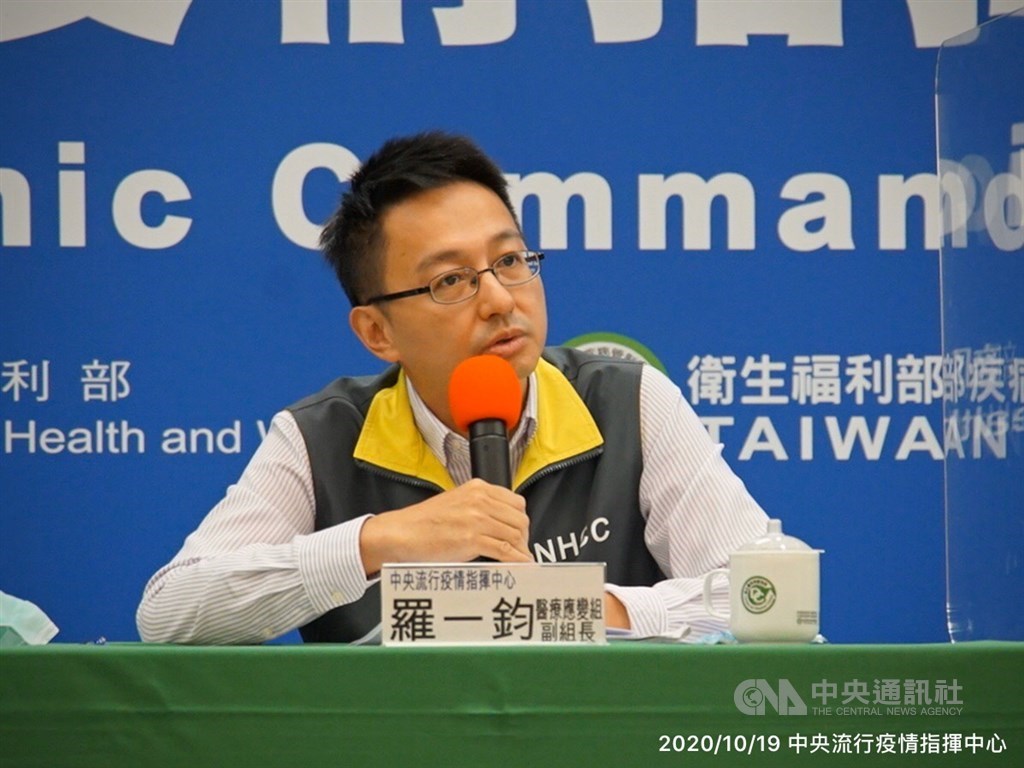 Taipei, Oct. 19 (CNA) Five new imported cases of COVID-19 were confirmed in Taiwan on Monday, bringing the total number in the country to 540 since the pandemic began at the end of last year, the Central Epidemic Command Center (CECC) said.
One of the new patients is a Taiwanese man in his 20s who returned to Taiwan on Oct. 11 after having been in France since August 2019 to work, said Lo Yi-chun (羅一鈞), the deputy chief of the CECC's medical response division at a press conference in Taipei.
Upon his arrival, he told health officials of symptoms he experienced on Oct. 9 before arriving in Taiwan but tested negative for COVID-19 at the airport.
He started experiencing symptoms again on Oct. 12 and 13 while in quarantine, which is mandatory for all arrivals, but he did not immediately ask to see a doctor because he thought it may have been his allergic rhinitis and asthma, Lo said.
When his symptoms persisted, he was tested on Oct. 16, and the results came back positive Monday, Lo said.
A total of six people who sat near the man on their flight have been asked to go into isolation, Lo said.
Another case involved a Taiwanese man in his 40s who lives and works in the Philippines and returns to Taiwan once every one or two months, the CECC said.
The man had no COVID-19 symptoms upon arriving in Taiwan on Oct. 4 but was confirmed to have the disease Monday after taking a test Oct. 17, the CECC said.
People entering Taiwan from the Philippines are no longer required to take a test for COVID-19 when they arrive but do have to take one at the end of their 14-day quarantine period.
In a similar event, a Filipino man in his 30s who showed no symptoms upon arriving in Taiwan for work on Oct. 4 also received a positive result Monday after being tested on Oct. 17.
Meanwhile, an Indonesian teenager who entered Taiwan on Oct. 3 to go to school here and had been asymptomatic took a COVID-19 test on Oct. 18 that turned out positive Monday, the CECC said.
She was tested because Taiwan requires arriving international students to also undergo testing when they complete their 14-day quarantine.
The remaining patient is a Russian teenager who entered Taiwan Oct. 9 to attend school, Lo said.
She tested negative in a test taken Oct. 7 but started experiencing symptoms on Oct. 16 during quarantine and underwent testing the next day, with the results coming back positive Monday, Lo said.
"She had traveled from Russia via Turkey and did some sightseeing before traveling to Taiwan. So she may have been infected in Russia or in Turkey," Lo said.
The CECC is currently trying to trace any close contacts on her flight, the CECC said.
To date, Taiwan has recorded 540 cases of COVID-19, with 448 classified as imported. Of the total, 493 have recovered, seven have died and 40 are in the hospital, according to CECC data. The last time Taiwan recorded a domestic infection was on April 12.
View All