Helicopter seized in Taitung in government crackdown on illegal flights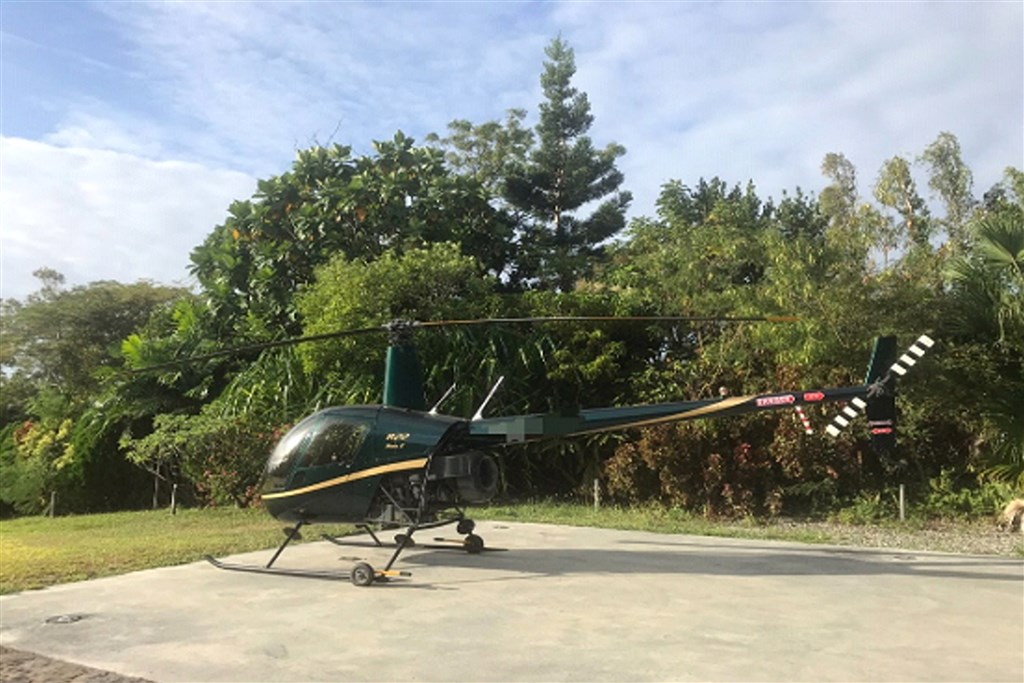 Taipei, Oct. 17 (CNA) An unregistered helicopter was seized in Taitung and the owner held for questioning Friday on suspicion that he had been flying without a license, as the government tightens its enforcement of the Civil Aviation Act, a prosecutor said Saturday.
The man, identified only by the surname Chen (陳), was questioned and later released on bail of NT$250,000 (US$8,686.43), while the Robinson R22 Beta II helicopter found at his residence was seized, the Taitung District Prosecutors Office said.
During questioning, Chen denied that he had been flying the helicopter recently, as was reported to the local police, and said he had not flown the unregistered helicopter since he learned it was illegal to do so, according to prosecutor Tseng Yang-ling (曾揚嶺).
The investigation followed the Civil Aeronautics Administration's (CAA's) announcement Tuesday of an air safety campaign against flights by unregistered helicopters and light aircraft, as well as unlicensed pilots.
The CAA said that while there are no restrictions on importing helicopters, they must be registered and flown by licensed pilots.
According to the CAA, there are no registered Robinson R22 helicopters in Taiwan, but about six to seven of them have been used recently in unauthorized flights.
Earlier in the week, authorities in New Taipei impounded a Robinson R22 helicopter, which was seen in flight in mid-September, the CAA said.
With the help of the National Police Agency and local governments, the CAA said, it is moving to more strictly enforce the Civil Aviation Act in that regard.
The CAA said it will offer assistance to aviation enthusiasts who come forward to obtain their licenses and register their aircraft.
If they are caught conducting illegal flights, however, prosecutors will seek the heaviest punishment against them in court, the CAA said.
Under the Civil Aviation Act, operating an unregistered aircraft carries a maximum prison term of five years and a fine up to NT$1 million, while the penalty for flying without a license is the same.