Woman arrested for vandalizing Lee's portrait at public memorial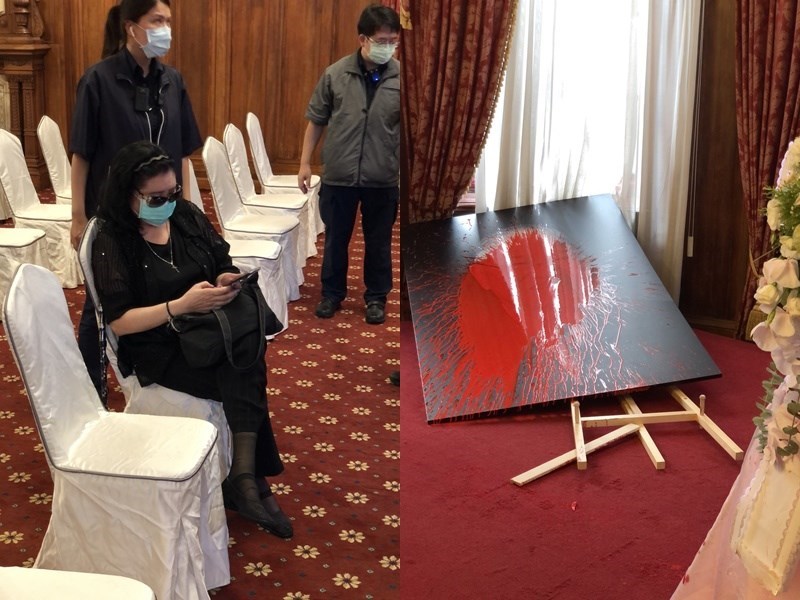 Update: Woman faces possible prison time for Lee photo vandalism
Taipei, Aug. 14 (CNA) Taipei City police on Friday arrested and questioned a woman accused of splashing red paint on a portrait of former President Lee Teng-hui (李登輝) at a public memorial at Taipei Guest House.
The suspect, surnamed Cheng (鄭), allegedly entered the memorial site and began throwing balloons of red paint at a portrait of Lee, until she was restrained by security guards.
After receiving a report of the incident around 1 p.m., officers from Taipei's Zhongzheng First Police Precinct went to the scene, arrested the woman and held her for questioning.
The police have not released any information about the suspect's possible motives.
According to unconfirmed reports, the suspect is singer and entertainer Cheng Hui-chung (鄭惠中), who was arrested in January last year for slapping then Culture Minister Cheng Li-chiun (鄭麗君) at a banquet for veteran entertainers.
Prosecutors later dropped the charges against Cheng, who is in her late 60s.
In a statement on the incident at the Lee memorial site, Presidential Office spokesperson Xavier Chang (張惇涵) condemned the suspect's "irrational and violent behavior" and asked the public to show respect when visiting the memorial.
The act of vandalism occurred on the same day Lee was laid to rest in a private funeral service at Chi-Nan Presbyterian Church.
The memorial at Taipei Guest House is open to the public through Aug. 16.
Lee, who served as president from 1988-2000, died on July 30 at the age of 97.