Teachers' unions push for air conditioning in schools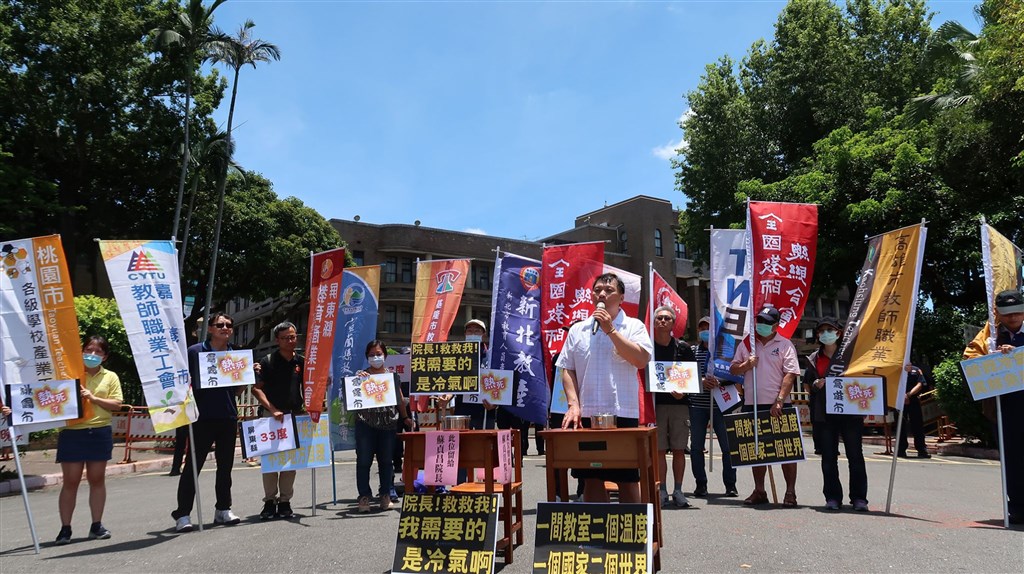 Taipei, June 23 (CNA) The National Federation of Teachers Unions held a demonstration in Taipei Tuesday, urging the government to help install air conditioning in schools, highlighting the regional gap between Taipei and areas outside the capital.
Representatives from teachers' unions across Taiwan took part in the demonstration outside the Executive Yuan, calling for Premier Su Tseng-chang (蘇貞昌) to make good on President Tsai Ing-wen's (蔡英文) campaign promise to improve the teaching environment and reduce the gap in school infrastructure across Taiwan.
Citing the recent hot weather across the country, with daytime highs reaching mid to high 30 degrees Celsius, the teachers' group said such conditions make it harder for students to study and could cause health issues.
The federation also pointed out that while Taipei on June 20 announced it has installed air conditioning in all the city's junior high schools and 92 percent of elementary schools, it will take the central city of Taichung 15 years to reach the same level.
Tainan is still evaluating such a move, while Kaohsiung's target of installing air conditioning in 100 schools from senior high school to elementary school level this year will still only raise the installation rate to around 40 percent, it added.
Although school infrastructure falls under the purview of local government, the Tsai administration has acknowledged the regional gap created by local government finances and promised a central government plan to improve the teaching environment, the federation noted, reiterating its stance since June 2018 that air conditioning is essential in schools.
The central government should help local governments to achieve what Taipei has managed to do, in order to better look after the country's nearly 2 million junior high school and elementary school students, the federation said.
As of press time, Taipei recorded a daytime high of 38.4 degrees Celsius on Tuesday, while temperatures at locations in Keelung, Yilan, Hualien and Taitung in northeastern and eastern Taiwan hit over 37 degrees before 2 p.m., the Central Weather Bureau's statistics showed.