CORONAVIRUS
/
Taiwan to admit 2,238 graduating foreign students after COVID-19 entry ban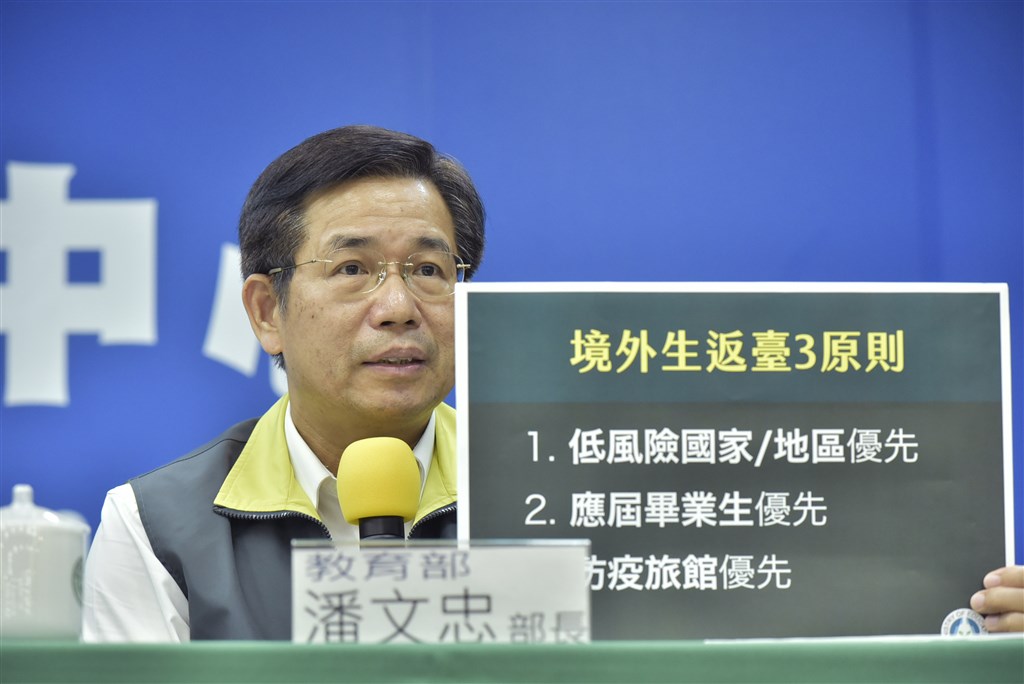 Taipei, June 17 (CNA) More than 2,000 foreign students from 11 countries and areas, who are graduating this year, will be allowed to return to Taiwan soon, after being shut out for more than three months due to border control measures imposed by Taiwan in March at the height of the COVID-19 pandemic.
A total of 2,238 students, now residing in 11 low-risk countries and areas, will be allowed to return to Taiwan in several groups, but those from China are not included, Minister of Education Pan Wen-chung (潘文忠) said at a weekly news briefing hosted by the Central Epidemic Command Center (CECC).
According to Pan, the students are currently in Vietnam, Hong Kong, Macau, Thailand, Palau, Australia, New Zealand, Brunei, Fiji, Mongolia and Bhutan.
Based on lists of names provided by colleges across Taiwan, the 2,238 students, all of whom are due to graduate this summer, were selected to return to Taiwan, Pan said.
Ministry of Education (MOE) statistics show that 90 percent of them are from Hong Kong, Macau and Vietnam.
Upon arrival in Taiwan, however, the students will be required to go into quarantine for 14 days at hotels booked by their schools and approved by the MOE, he said.
Meanwhile, Wu Yung-chien (吳永乾), chairman of the Association of Private Universities and Colleges and Shih Hsin University president, said they respect the arrangements made by the education ministry.
He urged the MOE to set aside political considerations and finalize its plans as soon as possible for the students' return no later than early July, as the new semester starts in September.
In response to a reporter's question on why Chinese students had not been included in the return plan, Minister of Health and Welfare Chen Shih-chung (陳時中) said it was because of a resurgence of the COVID-19 coronavirus in Beijing and some neighboring areas.
Since Taiwan closed it borders in March to all incoming travelers, except citizens, diplomats and resident permit holders, more than 26,000 foreign students have been unable to return to complete their studies.
According to MOE statistics, the number of foreign students enrolled in Taiwan universities and colleges totaled 63,000, as of the end of 2019.
View All