Uber Eats, Foodpanda to be fined for late reporting of fatal accidents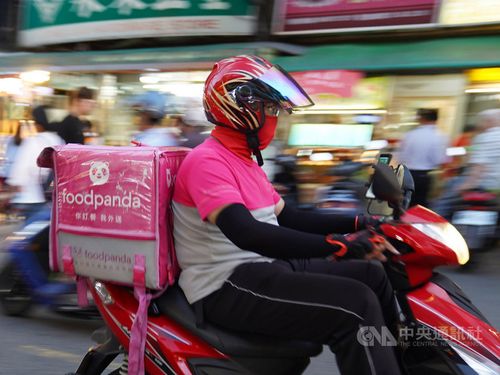 Taipei, Oct. 16 (CNA) Food delivery companies Uber Eats and Foodpanda will be fined for failing to promptly report the deaths of two of their food delivery drivers in separate traffic accidents this month, the Taipei and Taoyuan City governments said Wednesday.
The time frame for reporting such accidents is eight hours, and the fine for violation of that law ranges from NT$30,000 (US$996) to NT$300,000, said Chiang Ming-chih (江明志), director of the Taipei City Labor Inspection Office, citing the Occupational Safety and Health Act.
On Oct. 13, a 20-year-old food delivery driver for Uber Eats was killed when his scooter was rammed by a car in Taipei's Shilin District at around 6 p.m., but the company did not report the death to the relevant authorities within the eight-hour period, Chiang said.
The Taoyuan City Labor Inspection Office also said Wednesday it will fine Foodpanda for a similar offense.
On Oct. 10, a 29-year-old Foodpanda delivery driver was killed when his scooter collided with a truck at 11 p.m. in Taoyuan.
The two companies have submitted the relevant data and documents such as work records, payroll rosters and attendance records to the local governments, although the work record provided by Foodpanda was incomplete, said the authorities.
The Taipei City Department of Labor said it would see whether the documents met the legal requirements, while the Toayuan City Department of Labor said it would ask Foodpanda to submit a statement, before dealing with the matter in accordance with the law.
According to the Labor Standards Act, employers must keep work records, worker payroll rosters and worker attendance records for five years, or face a fine of up to NT$1.75 million.
Under the law, an employer should pay compensation in the event of a worker's death, or if an employee suffers an injury, illness, or disability due to an occupational accident, according to the Taoyuan City Department of Labor.
If Foodpanda fails to pay compensation to the family of the delivery driver, it could face a fine of NT$20,000 to NT$1 million, the department said, adding that will keep tabs on the matter.
In the wake of the two fatal accidents, it was revealed that some food delivery services had been categorizing their drivers as "independent contractors" who were not entitled to labor insurance coverage or other benefits.