Indonesian police claim Taiwanese involved in human trafficking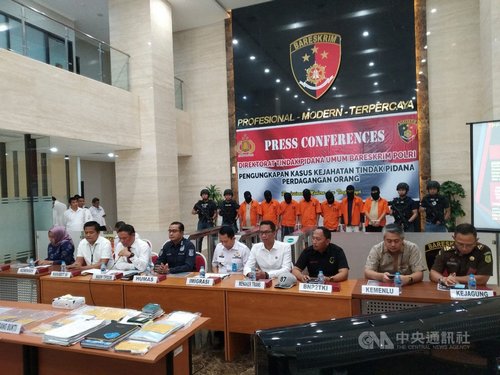 Jakarta, Oct. 15 (CNA) At least six Taiwanese citizens are believed to be involved in a human trafficking case that sent 40 Indonesians to work illegally in Taiwan under the pretense of studying dating back to 2017, Indonesian police told CNA Monday.
Indonesian National Police last Wednesday announced action on the trafficking case involving 40 Indonesians who were reportedly tricked as part of a scheme, in which scholarships and job opportunities were offered for them to study at Chienkuo Technology University in Changhua County, according to a Jakarta Post report.
The "students" traveled to Taiwan on Oct. 27, 2017. The case came to light after two victims of the scheme filed reports with the Indonesian police after not receiving the pay they were promised for the past 18 months living in Taiwan, the police said.
During Wednesday's press event, the Indonesian police named two Indonesian suspects who helped to enroll the victims, while also charging them US$2,473 in administrative fees each.
Joko, a police officer on the task force in charge of the case, told CNA Sunday that other than the two Indonesian suspects who have been detained, they believe at least six Taiwanese are involved in the alleged fraud scheme.
The two victims told police they were interviewed by six Taiwanese nationals using an interpreter before they traveled to Taiwan, according to Joko.
The Indonesian police are hoping to share information with the police in Taiwan as part of their ongoing investigation, Joko said.
The two victims were originally told they would be studying at the university in Changhua and would receive bachelor degrees. However, on arriving in Taiwan, they were forced to work from Monday through Saturday, from 1p.m. to 9p.m., and were only allowed to attend Chinese classes at the university on Sundays, Joko said.
They worked at three different factories while they were in Taiwan, arranged by Taiwanese brokers from Shixin International Human Resources company, according to Joko.
Another officer investigating the case, Wibowo, told CNA that the victims ranged from 20-24 years of age. In some cases their parents borrowed money to send them to Taiwan.
Police will assist the two victims in taking legal action next week and more victims could follow suit, he added.
Asked to comment on the case, Taiwan's representative office in Indonesia told CNA that the nation's Ministry of Education (MOE) investigated the case in June this year, after receiving complaints from a group of Indonesians.
The office would not give more details on the case, citing ongoing investigations.
MOE's Technological and Vocational Education Department chief Yang Yu-hui (楊玉惠) said in June that the ministry found that at least 19 Indonesian students in Chienkuo Technology University had worked 48 to 54 hours per week, more than double the maximum 20 hours a week international students are legally allowed to work.
In June, Yang said that the ministry would fine the university for its violations. It also turned the case over to prosecutors to investigate the school and the labor broker's alleged involvement in fraud and human trafficking.
Meanwhile, Liu Pin-lin (劉柄麟), secretary-general of the Changhua university, confirmed to CNA that the 40 Indonesians registered to study at the school in Oct. 2018, in three batches.
Twenty-six of the students later left the school and returned to Indonesia "as they could not adapt to life in Taiwan,"according to Liu.
However, Liu denied the university had done anything wrong, claiming the school had taken good care of the students.
Liu said the school authorities had launched its own probe to check if any of its staff had engaged in illicit activities with brokers to recruit international students.
The university is also cooperating with Changhua District Prosecutors as part of their ongoing investigation into the case, he added.