Danhai light rail to commemorate 135th anniversary of Battle of Tamsui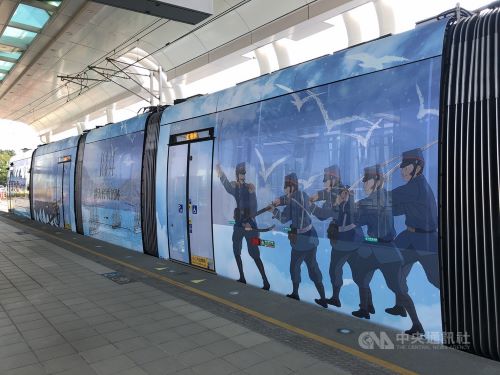 Taipei, Oct. 8 (CNA) The Danhai Light Rail Transit (LRT) system will commemorate the 135th anniversary of the Battle of Tamsui, a major battle in the Sino-French War, with a historically themed train and collectible one-day passes from Oct. 10, the New Taipei Metro Corp. announced Tuesday.
According to the announcement, 1,884 limited-edition collector's sets containing an embossed one-day LRT pass and commemorative postcard will go on sale for NT$99 (US$3.21) at Hongshulin LRT station and on the Metro Corp.'s website.
Holders of the commemorative one-day pass will also receive free entry to a Hongshulin LRT station event in which they can dress up in Qing Dynasty-style clothing and have their pictures taken during the Double Ten National Holiday weekend, the company said.
It also announced the launch of an LRT train featuring illustrations of the battle, which is expected to run through the end of October.
The LRT opened in December 2018 and currently consists of one line running an inland route from Hongshulin to the Kanding LRT station on the north coast.