Tainan to be most impacted by global warming in Taiwan: Greenpeace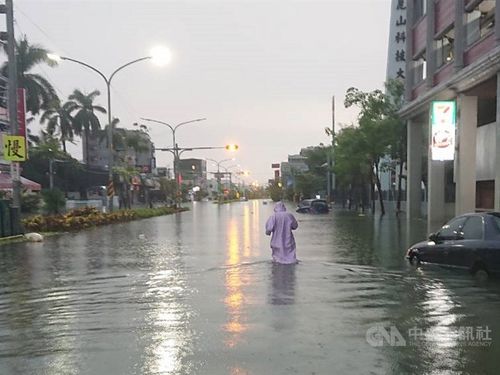 Taipei, Sept. 22 (CNA) As ocean levels rise because of global warming, coastal areas of southwestern Taiwan, such as Tainan, are expected to suffer the worst flooding on the island, environmental protection group Greenpeace said Sunday.
If Taiwan and the world do not do enough to reduce greenhouse gas emissions by 2050, it is estimated that flooding caused by a rise in sea levels will affect more than 1.2 million people in Taiwan, with up to 1,398 square kilometers in the country impacted, including 310 square kilometers in Tainan, according to Tang An (唐安), an energy project manager of Greenpeace East Asia.
Citing Greenpeace's latest report on the impacts of climate change, Tang said that over the past 100 years, the average land surface temperature rose about 1.3 degrees Celsius in Taiwan and has continued rising in recent years.
The increase could exceed 3 degrees by the end of the 21st century in the worst-case scenario, Tang said.
The Paris Climate Agreement, which was adopted by 195 countries in 2015, aims to pursue efforts to limit the increase in the global average temperature to below 2 degrees and even further to 1.5 degrees as this would substantially reduce the risks and effects of climate change, according to Tang.
Tang made the remarks at an event in Ximending in downtown Taipei to raise public awareness regarding global warming and related risks. She called on candidates in the 2020 presidential election to come up with sustainable energy policy to cope with global warming and climate change.
The call came two days after young people across the world, led by 16-year-old Greta Thunberg from Sweden, rallied in different locations of the globe in a massive Friday climate strike to draw attention to the climate crisis.
Thunberg started striking every Friday in August 2018 to demand climate action from world leaders.