Some 10,000 households without power due to Bailu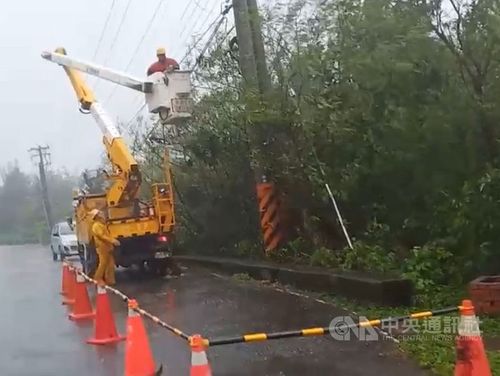 Taipei, Aug. 24 (CNA) Some 10,000 households in southern Taiwan are still without electricity after Tropical Storm Bailu swept through the region Saturday and caused blackouts to 73,210 homes in Taiwan, the Central Emergency Operation Center (CEOC) said.
As of 6 p.m., a total of 13,519 households were left without power, with the majority of them in Taitung County, followed by Nantou County, Hualien County, Pingtung County, Chiayi County, and Tainan City.
According to the center, power is expected to be fully restored at around 10 p.m.
In its latest briefing, the CEOC said Bailu also caused severe mudslides in several mountainous areas.
As of 3:30 p.m., two villages in Taitung County's Yenping Township were given red alerts for mudslides Saturday, meaning that local authorities were required to evacuate people residing close to rivers.
Also, a total of 545 riverside locations in eastern and southern Taiwan remained on yellow alert, meaning residents living in such areas were advised to evacuate.
The yellow alerts were issued for six villages in Yilan County, Nantou County, Kaohsiung City, Pingtung County, Taitung County and Hualien County.
According to the CEOC, there have been no reported casualties from Tropical Storm Bailu, but there were incidents requiring rescue operations.
A minivan carrying 14 people had to be rescued around noon Saturday after it was trapped in a mountainous area in Hualien County due to mudslides.
In Taitung, the local fire department reported that floodwaters in Luye Township caused four passengers to be stranded in a vehicle at around 1 p.m. They have since been rescued from the vehicle.
(Photo courtesy of Taitung County Fire Department)