Culture minister pledges to help after U-Theatre's cabin burns down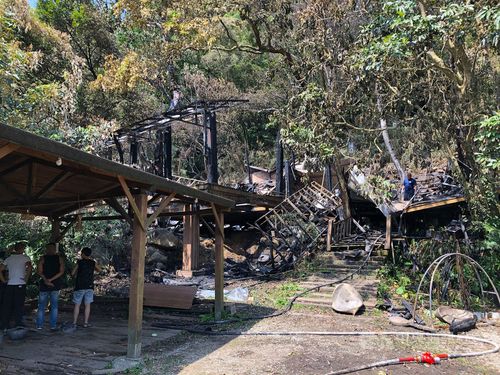 Taipei, Aug. 13 (CNA) Culture Minister Cheng Li-chiun (鄭麗君) pledged Tuesday to offer assistance after a mountain cabin used as a rehearsal space by one of the nation's most renowned performing arts groups, U-Theatre, burned down earlier that day.
Taipei firefighters who received reports of the blaze at 8 a.m. Tuesday dispatched 37 personnel and 15 vehicles, and the fire was extinguished after an hour.
The fire destroyed the two-story cabin, which was part of the Mountain Theater of U-Theatre located at the top of Laokengshan in Taipei's Wenshan District. Investigators were still investigating the cause of the fire as of press time.
Upon learning the news, U-Theatre founder and artistic director Liu Ruo-yu (劉若瑀) told reporters that she was deeply saddened by the tragedy.
Some 200 musical instruments were destroyed by the blaze.
Liu estimated that the facility could cost more than NT$1.5 million (US$47,214) to rebuild.
For the time being, the troupe will borrow instruments from other performing groups for its upcoming shows and will change its rehearsal spaces to nearby venues, according to Liu.
Cheng was quoted as saying in a press release that her ministry has contacted the troupe and has promised to allocate emergency funds to help it cope with the emergency.
Meanwhile, Taipei City's Department of Cultural Affairs also promised to offer assistance to the troupe.
The internationally acclaimed U-Theatre is renowned for its unique combination of drumming, Zen meditation and martial arts and has toured the world.
Occupying an area of 3,300 square meters, the Mountain Theater has been used by the troupe as a rehearsal space since its founding in 1988.
Aside from the cabin, which is off-limits to visitors without a reservation, the Mountain Theater also consists of an open stage for commercial performances and rehearsals, which is open to the public.
In 2008, Taipei City's Cultural Heritage Review Committee decided to list the venue as an area of cultural interest due to its historical, cultural and artistic value.