Taiwan adolescents heavily reliant on mobile phones: survey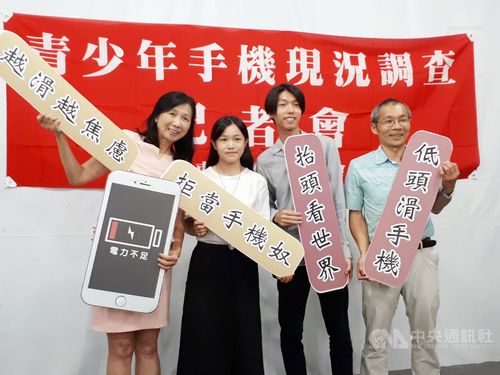 Taipei, June 12 (CNA) Adolescents in Taiwan rely heavily on their mobile phones for entertainment and interpersonal interactions, and the older they get the more important their smartphones become to them, according to a survey released Wednesday by the non-profit King Car Cultural and Educational Foundation.
In the survey of adolescents between 10 and 17 years of age, 76 percent said they would feel inconvenienced without a mobile phone to contact other people, while 64.1 percent said they would feel bored without one.
On the question of how they would feel if their phones ran out of power, 55.9 percent said they would become anxious, 46.1 percent said they would worry about not being able to access the Internet, and 34.8 percent said they always carry a portable power bank.
According to the poll, 16.1 percent of adolescents in Taiwan are on their smartphones more than 5 hours a day, 22.9 percent average 3-5 hours, 39.5 percent 1-3 hours, and 21.5 percent 1 hour a day.
The older the adolescents, the more time they spend on their smartphones, the survey found.
Smartphones are used in the 10-17 age group mostly to watch videos, interact on social media, and play online games, according to the survey.
It found that 91.2 percent of adolescents have internet access on their smartphones, with 38.7 percent having Wi-Fi access, 36.8 percent unlimited data, and 15.7 percent limited data.
The survey was conducted by the King Car Cultural and Educational Foundation in March among students from fifth to 11th grade, and collected 3,017 valid samples.
It had a 97 percent confidence level and a margin of error of plus or minus three percentage points.