Taiwan culls nearly 7,000 chickens following bird flu case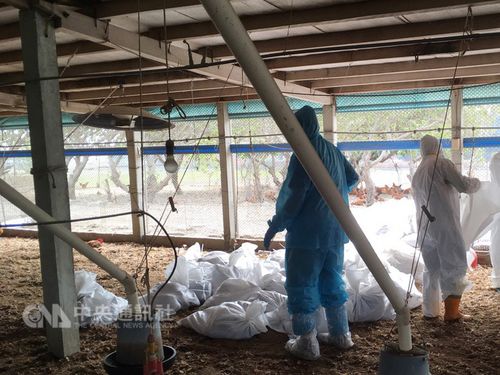 Taipei, Dec. 16 (CNA) Animal quarantine authorities in Taiwan slaughtered nearly 7,000 chickens at a poultry farm in Changhua County Sunday after an outbreak of a subtype of highly pathogenic H5N2 influenza virus was confirmed a day earlier, the first bird flu case reported in the county this winter.
The infection was detected among samples collected Dec. 6 from the poultry farm in Lugang Township that led to the culling of 6,958 chickens, Tung Meng-chih (董孟治), head of the Animal Disease Control Center, said Sunday.
Tung said the authorities also carried out cleaning and disinfection work on the premises to help prevent any possible spread of the virus, which is more likely to be transmitted during winter.
He urged poultry farmers to remain vigilant for any signs of disease in their flocks and to maintain strict biosecurity measures.
Poultry farmers who fail to follow the biosecurity measures stipulated in the relevant regulations on prevention of subtypes of H5 and H7 avian flu will be subject to a fine of between NT$30,000 (US$972) and NT$150,000, he said.