Owner of controversial temple in Changhua detained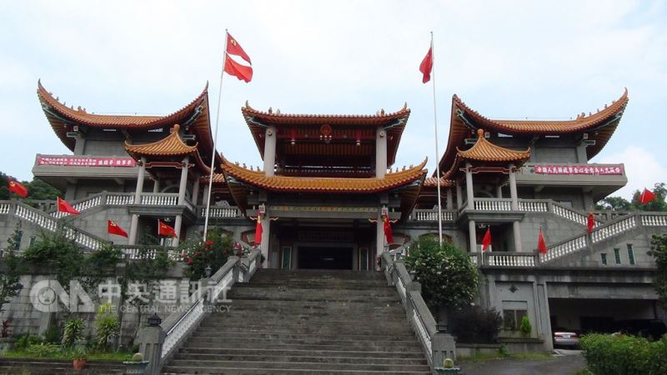 Taipei, Sept. 21 (CNA) The owner of a controversial temple in Changhua County was detained Friday after throwing a punch at a county official who ordered workers to cut water and power supply to part of the temple complex, which has become a big news story in Taiwan following a report in the New York Times.
Wei Ming-jen (魏明仁), 60, who owns Biyun Temple in the central Taiwanese county's Erlin Township, was taken to the local police station on charges of obstructing public law enforcement and the case has been referred to prosecutors for further investigation.
Wei later called a news conference at which he said the county authorities have no right to break into his premises and claimed their attempt to cut water and power supply to the temple represents an abuse of power.
Changhua County Magistrate Wei Ming-ku (魏明谷), a member of the Taiwan independence supporting Democratic Progressive Party, made the decision to suspend water and power supply to the illegal built structures in the temple complex Friday afternoon.
He also ordered the razing of illegal structures on the property next week after a New York Times report revealed the new owner has raised the flag of the People's Republic of China and is displaying portraits of the founding leaders of the Chinese Communist Party.
According to the newspaper, the century-old temple has become a Chinese communist shrine in what it described as "a brazen display of support for the party on the island" at a time of rising tensions between Taiwan and China.
Wei Ming-jen calls the shrine his "patriotic education base" and insists on raising China's flag in Taiwan because "no country and no forces in the world can stop us from uniting."
Wei Ming-jen's remarks reportedly triggered discontent among locals, prompting the county magistrate to take action against the allegedly illegal complex, which some have dubbed the "shame of Changhua."
"We will stop water and power supply to Biyun Temple from Friday afternoon and tear down its illegal structures on or about next Wednesday on the grounds that it has damaged the country's dignity, hurt the feeling of its people and caused great trouble to local residents," Wei Ming-ku said.