South Korean woman rescued from damaged building in Hualien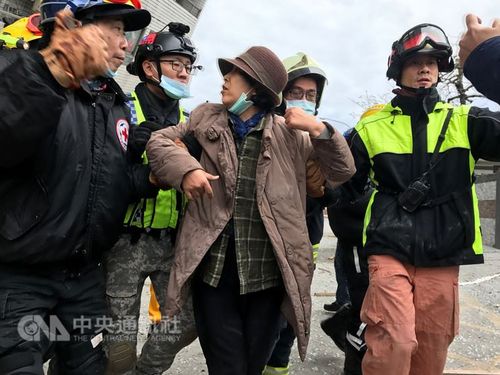 Taipei, Feb. 7 (CNA) A South Korean woman in her 50s was rescued from her apartment on the ninth floor of a partially collapsed building in eastern Taiwan's Hualien County, which was struck by a magnitude 6.0 earthquake late Tuesday.
Disaster response teams rescued the 58-year old woman, surnamed Kim (金), from the Yun Men Tsui Ti commercial/residential building (雲門翠堤大樓) in downtown Hualien at around 10 a.m. Wednesday.
Kim, who was conscious and had no visible injuries, was taken to a nearby hospital for further examination.
She kept thanking her rescuers as she made her way out of the building and said it was likely there were more people trapped inside.
According to the latest numbers from Hualien County Fire Department and Hualien's disaster response center, two people in the building were killed, and 143 remain unaccounted for.
Of the buildings that have sustained damage, the Yun Men Tsui Ti is considered the one that was hit the hardest.