Games over, will Universiade mascot Bravo live on?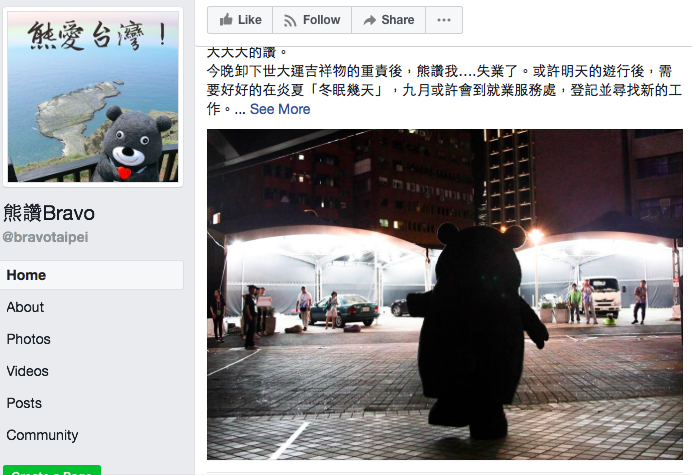 Taipei, Sept. 1 (CNA) The just-concluded Universiade provided a stage on which many participants attracted media attention, including official mascot Bravo, whose "next move," has raised a few eyebrows.
The comments started after Formosan black bear Bravo, who had a Facebook page as part of Taipei City government's Universiade campaign, started to post an "unemployment diary" after the event concluded on Aug. 30.
"After completing my solemn responsibility as the Universiade mascot, I, Bravo… have become unemployed," read a post after the closing ceremony, along with a photo of the mascot's back.
That post has attracted feedback from half of Bravo's 64,000 fans since the mascot was introduced in late 2015, including messages such as "please come and hibernate at my place," "do not disappear" and "you are the best athlete."
There have also been messages of support from local business operators such as the 7-Eleven convenience store chain and Aeon Motor Co., which have offered Bravo a "new job" as their mascot.
However, Bravo was spotted entering an employment services office in downtown Taipei on Friday to fill out a job search form - marking the launch of a new campaign by the city's Department of Information and Tourism to keep its pet project alive.
"Bravo was born because of the Universiade, but we don't want him to disappear because the games are over," said department specialist Wang Ta-tung (王大同), who is in charge of the mascot's marketing campaign.
According to the Taipei Universiade organizing committee, all 6,000 Bravo miniatures were sold, with many spectators still keen to get their hands on one.
Despite the mascot's current popularity, it is possible that Bravo will ultimately meet the same fate as 36 other mascots from 15 Taipei government departments, blasted last year by city councilor Hsu Shu-hua (許淑華) for being a waste of money.
Still, many city officials evaded reporters' questions of how will they take his "next move," replying "you had better ask Bravo himself."
In response to a question on what the future holds for Bravo, Taipei Mayor Ko Wen-je (柯文哲) said on Friday it will take the city government one to two months to decide.
"Bravo is one of the post-Universiade issues we have to deal with," Ko said, indicating that Bravo could be made the city's one and only mascot, while decommissioning all its predecessors.
If that turns out to be Bravo the bear's fate, his fans will surely inundate his FB page with merry cheers.