Typhoon-caused agricultural losses in Taitung reach NT$600 million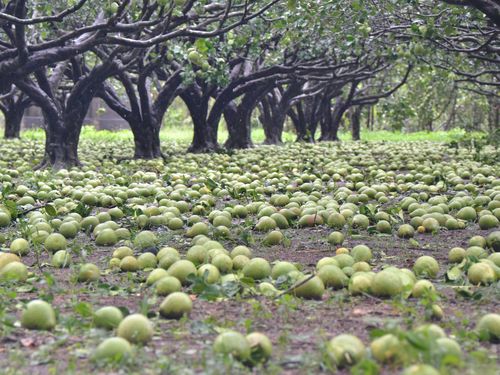 Taipei, July 8 (CNA) Taitung County, the part of Taiwan hardest hit by Typhoon Nepartak on Friday, has reported initial agricultural losses from the storm of over NT$600 million (US$18.58 million).
According to the Taitung County government, few crops in the county survived Nepartak's onslaught of strong gusts of wind and torrential rain.
The crops sustaining the heaviest damage were pomelos, custard apples, bananas, pineapples, cabbage, tomatoes and bell peppers, the local government said.
The losses reached over NT$600 million as of Friday afternoon, based on initial reports from townships around the county, and were expected to continue to rise as more farmers assess the damage to their crops, according to the local government.
At the same time, more than 36,000 households in Taitung were still without power as of Friday evening, according to state-run utility Taiwan Power Co. (Taipower).
Another 14,000 households, including 9,000 in Pingtung County and 4,000 in Kaohsiung, were without power as of 6 p.m. in the rest of the country, after 510,000 households initially suffered power outages caused by the storm, Taipower said.
The company mobilized around 2,000 people to fix utility poles and power lines toppled or damaged by falling trees or business signboards during the storm, and nearly 90 percent of the damaged equipment had been repaired as of Friday evening, the company said.
Pingtung and Kaohsiung also reported substantial agricultural losses.
The Pingtung County Department of Agriculture said agricultural losses in the county have reached over NT$33 million so far, with banana and papaya farmers suffering the biggest losses.
Kaohsiung reported losses of NT$14 million, mostly to banana and corn farmers, according to initial statistics from the city's Agricultural Bureau.
Meanwhile, the Taitung County government announced that schools and offices in the townships of Taimali, Luye and Yenping, as well as Haiduan Township's Lidao and Wulu villages, will remain closed on Sunday.
(By Tyson Lu, Chiu Po-sheng, Kuo Chu-chen, Wang Shwu-feng and Elizabeth Hsu) ENDITEM/ls