Taiwan rejects poaching allegation by Indonesia in shooting incident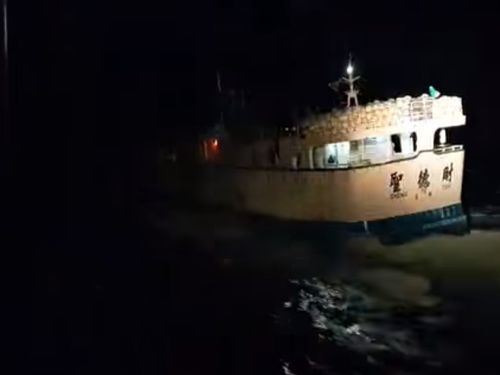 Taipei, March 22 (CNA) Taiwan on Tuesday rejected an explanation by Indonesian authorities that two Taiwanese fishing boats were shot at in the Strait of Malacca a day earlier because they were poaching and attempting to ram an Indonesian patrol vessel there.
Judging from the speeds of the two fishing boats, as shown in satellite positioning data obtained by Taiwan, it was unlikely that they were engaging in any fishing activities at that time, Fisheries Agency Director-General Tsay Tzu-yaw (蔡日耀) said.
If in fact the two fishing boats were not involved in illegal fishing, the Indonesian patrol vessels violated international regulations by shooting at them, Tsay stressed.
He said Taiwan's representative office in Indonesia will try to gather more information from the Indonesian side, and Taiwan's representative office in Singapore will also talk to the crew members of the two fishing boats after they arrive there.
[Photo courtesy of the Liuchiu Fishermen's Association]
At a press briefing Tuesday morning, Foreign Ministry deputy spokesman Andrew Lee said it was still premature for Taiwan to file a formal protest with Indonesia because it remained unclear why official Indonesian vessels acted the way they did.
Lee said firing shots is not a rational international practice, but it is how Indonesia protects its fishing sector. Details about the incident, such as the vessels' exact location and whether they were fishing, needed to be clarified before the ministry can make its next move, he said.
On Monday, the Coast Guard Administration received reports from the "Sheng Te Tsai" (聖德財號) and the "Lien I Hsing No. 116" (連億興116號) -- both registered in Liouciou Township of Pingtung County -- that two Indonesian vessels each fired at least four or five shots at them at 5:48 a.m. that day.
The incident was said to occur at the northern entrance of the Strait of Malacca, just over 100 kilometers from the northeastern coast of Sumatra, when the two Taiwanese boats were on their way to Singapore.
[Photo courtesy of the Liuchiu Fishermen's Association]
The two fishing boats had at least 10 shots fired at them during the incident, but nobody was injured, according to the Taiwanese ships involved.
Susi Pudjiastuti, Indonesia's minister of maritime affairs and fisheries, told CNA late Monday that the two Taiwanese fishing boats were found poaching in Indonesian territorial waters and that they were shot at after they ignored warning shots by Indonesian patrol vessels and instead attempted to ram one of the vessels.
She showed CNA a video lasting 1 minute and 32 seconds that showed an Indonesian patrol vessel trailing closely behind the "Sheng Te Tsai."
[Video provided by the Indonesian government]
The patrol vessel cast a spotlight on the fishing boat many times and signaled it to stop but did not receive any response from the Taiwanese boat, which continued to sail forward.
The video, however, does not contain any images of the Taiwanese boat ramming the Indonesian patrol vessel or it being shot at by the patrol vessel.
Susi said a rope can be seen in the video hanging from the right rear side of the Taiwanese boat, which she said indicated that it was in the middle of a fishing operation at that time. The boat did not fly any national flag, she added.
She said the two boats were being chased within Indonesian territorial waters.
Based on Indonesia's principles, any stateless boats that appear in Indonesian territorial waters will be detained, with their crew arrested, the minister said. The boats will then be sunk after all people have been evacuated, she said.
(By Yang Shu-min, Chou Yung-chieh and Y.F. Low)ENDITEM/ls