Severe cold spell rewrites Taiwan's weather record books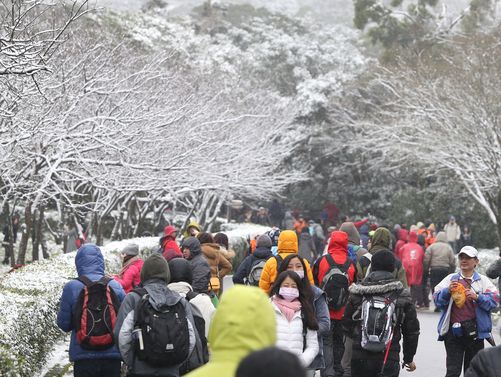 Taipei, Jan. 25 (CNA) A powerful cold front that has engulfed Taiwan since Saturday has set many new firsts, including forcing the Central Weather Bureau (CWB) to issue a low temperature warning covering the entire country on Sunday for the first time.
Even offshore islands, including Kinmen, Matsu and Penghu, were all included in the warning, the bureau said.
Temperatures set record lows in many parts of the country. Weather stations in Su'ao in Yilan County, Xinwu in Taoyuan, and Anbu and Zhuzihu on Yangmingshan all recorded their lowest temperatures ever on Sunday, hitting 5 degrees Celsius in Su'ao, 4.2 degrees in Xinwu, minus 3.7 degrees in Anbu and minus 1.5 degrees in Zhuzihu.
The weather monitoring stations in Kinmen and Matsu set records on Monday, with lows of 1.3 degrees in Kinmen and 0.3 degrees in Matsu.
Weather stations in low-lying areas of Taipei, Hsinchu County and Chiayi County observed soft hail (graupel or snow pellets) for the first time since the stations were established, according to the CWB.
Also, a mountain weather station in the Sun Moon Lake area in central Taiwan recorded rain mixed with snow Sunday, the first time that has ever happened since the CWB began recording computer data.
Though new historical lows were not set in other areas, all 28 weather stations around Taiwan recorded their lowest temperatures of this winter over the past two days, the CWB said.
The cold spell also forced the Directorate General of Highways to close 10 sections of provincial highways around Taiwan on Sunday, a new record.
Meanwhile, the Chushan line of the Alishan forest railway system was suspended on Monday due to safety concerns because of the accumulated snow.
With the cold wave leaving Taiwan, temperatures will rise to 13 to 14 degrees islandwide on Tuesday, the CWB forecast.
(By Chen Ting-wei and Elizabeth Hsu) ENDITEM/ls