Taipei planning to raise fares of Maokong Gondola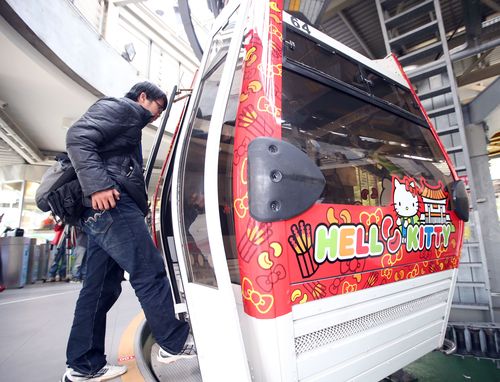 Taipei, Dec. 3 (CNA) The Taipei City government is planning to raise the fare of the Maokong Gondola to cover its operating losses, an official said Thursday.
This year, the ridership of the Maokong Gondola reached 2.66 million, with more than 60 percent of the passengers being foreigners or non-Taipei residents, said Chung Hui-yu (鍾慧諭), head of the city's Department of Transportation, during a hearing of the Taipei City Council.
At present, the Maokong Gondola suffers losses of NT$100 million per year, Chung said.
According to a plan presented by Chung to the city council, the fare for average passengers would be increased from NT$50 at present to NT$150 for a one-way trip (three stops).
For passengers using EasyCards, the fares for one stop, two stops and three stops would be NT$90, NT$120, NT$150, respectively, on weekends and holidays, and NT$60, NT$90 and NT$120 on weekdays and non-holidays.
The fares are NT$30, NT$40 and NT$50, respectively, at present.
For Taipei City residents, children and senior citizens, and the disabled, a single one-way ticket price of NT$60 will be proposed to the city council.
The new fares would be implemented in February 2016 if they are approved by the city council by the end of December, Chung said.
Asked about the issue, Taipei Mayor Ko Wen-je (柯文哲) said the city government is indeed planning to raise the fares of the Maokong Gondola, but how the new fares should be set should be considered together with a project to revitalize Maokong, the Maokong Gondola and the Taipei Zoo to boost tourism.
He said the project will only be finalized in February 2016.
(By Huang Li-yun, Ku Chuan and Y.F. Low) ENDITEM/cs