Taipei 101 to flash tricolour to mourn victims of Paris attacks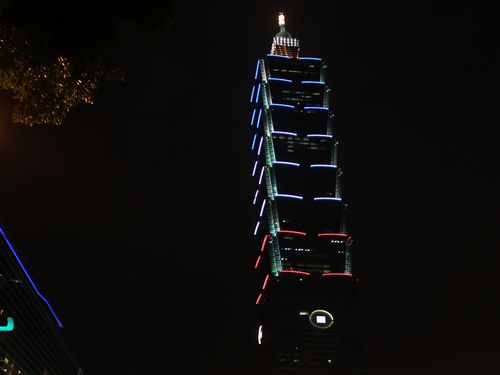 Taipei, Nov. 14 (CNA) The Taipei 101 skyscraper, the landmark building in the capital city of Taiwan, will join New York in putting on special red, white and blue lighting displays Saturday evening to mourn the victims of the series of terror attacks that occurred in Paris a day earlier.
The Taipei 101 building will light up in the three colors, a symbol of France's national flag, from 5:30 p.m. Saturday, in a move to mourn the dead and pray for the injured, a spokesperson for Taipei 101 said.
At least 153 people were killed in a series of terrorist attacks in Paris and its northern suburb of Saint-Denis Friday, foreign media reported. France has declared a national state of emergency.
On Friday, One World Trade Center in New York was also lit up in blue, white and red in solidarity with the people of Paris after the deadly string of attacks.
Taipei 101 is one of the world's tallest skyscrapers. It is also one of the most popular tourist destinations in Taiwan.
It will not be the first time the building has lit up as a gesture toward disaster victims. For example, the building lit up with the characters "Taiwan, Go" to cheer up for people in areas devastated by Typhoon Morakot in 2009.
Other activities in Taiwan to mourn the victims of the Paris attacks have included the observance of silence before the start of the six games of the World Baseball Softball Confederation (WBSC) Premier 12 scheduled to take place on Saturday in the country.
A total of 12 nations are participating in the tournament -- Cuba, Taiwan, Canada, Puerto Rico, Italy, Japan, South Korea, the Netherlands, the United States, the Dominican Republic, Venezuela and Mexico.
(By Huang Chiao-wen, Lin Hung-han and Elaine Hou)ENDITEM/J