4 dead, 1 missing as Typhoon Soudelor wreaks havoc in Taiwan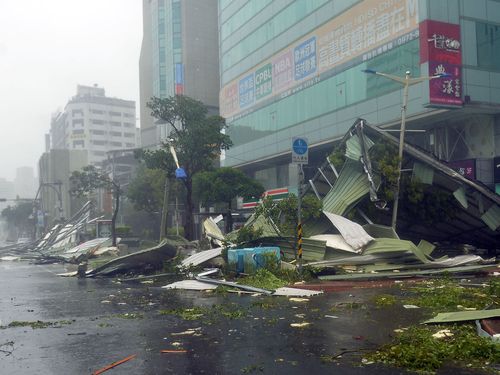 Update: ●Six dead, four missing as Soudelor sweeps through Taiwan
Taipei, Aug. 8 (CNA) Typhoon Soudelor has left four people dead and one missing in Taiwan as of early Saturday, authorities said, as the powerful storm worked its way across the island. Twenty-seven others have been injured.
The typhoon is expected to move into the Taiwan Strait to the west later Saturday but its sway on the island could continue throughout the day, forecasters said.
As of 8:00 a.m., Saturday, four people have lost their lives in incidents related to Typhoon Soudelor, including an 8-year-old girl and her mother who were swept out to sea Thursday when they were playing on a beach in Yilan County, eastern Taiwan, according to the Central Emergency Operation Center (CEOC).
The girl's twin sister, who was also there at the time, remained missing, the CEOC said.
A firefighter was killed and another injured after they were hit by a drunk driver as they were trying to remove a fallen tree that has blocked a highway in Pingtung, officials said.
Trees, traffic lights and power lines were down in many parts of the island, leaving some 1.87 million households without electricity Saturday morning. There were as many as 390,000 users without power in Taichung.
All across Taiwan, streets and sidewalks were strewn with fallen trees, broken signboards and other debris, making it hazardous for anyone who ventured out.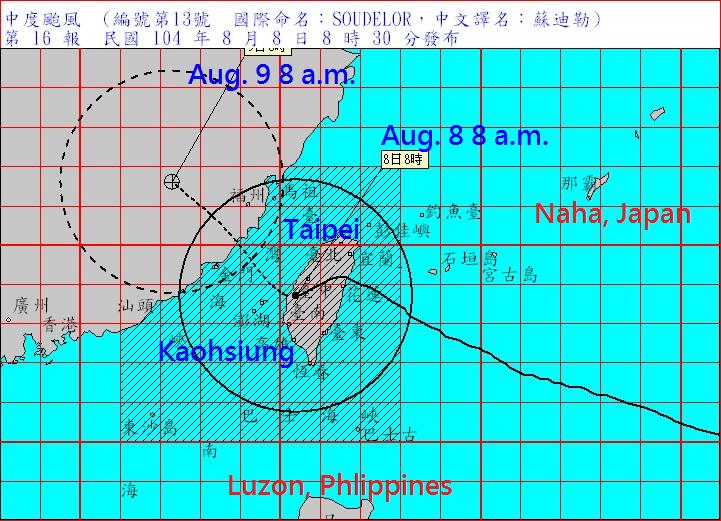 [From the Central Weather Bureau website]
The eye of the storm made landfall in eastern Taiwan at 4:40 a.m., as Soudelor pummeled the island with strong gusts and torrential rain, the Central Weather Bureau said.
As of 6 a.m., the storm was centered 60 km west of Hualien, making its way across the island's central mountains at a speed of 19 km per hour in a west-northwesterly direction, the bureau said.
It is packing maximum sustained winds of 173 kph, with gusts reaching 209 kph, it said.
The storm could start weakening, forecasters said, but warned against wind gusts reaching some 150 kph and extreme rainfall -- an accumulation of 350 millimeters or more in 24 hours -- across Taiwan.
Between midnight Friday and 6 a.m. Saturday, Taiping Mountain in eastern Taiwan's Yilan County topped all regions with an accumulated rainfall of 1,099 mm, bureau data showed.
Suao Township in Yilan County saw the strongest winds during that period, with gusts reaching over 240 kph.
On its current path, Soudelor could move out into the Taiwan Strait later in the morning, forecasters said, adding the storm will not clear Taiwan until early Sunday.
(By Liu Chien-pang, Lee Hsin-yin and Jay Chen)ENDITEM/jc
Related:●Typhoon Soudelor batters Taiwan after making landfall
#Typhoon #Soudelor Taipei http://t.co/WFpWe0HX1H pic.twitter.com/ITDnO66b0u

— Focus Taiwan (@Focus_Taiwan) August 8, 2015