Main suspect surrenders in detective murder case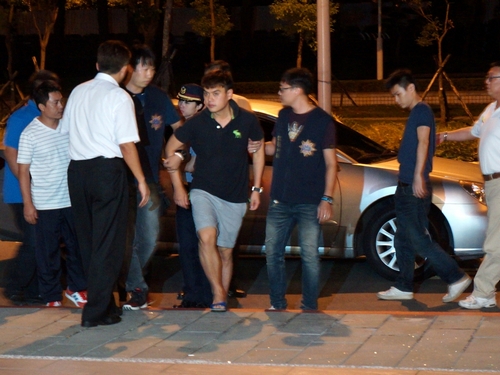 Taipei, Sept. 15 (CNA) The chief suspect in the brutal killing Sunday of a police detective in Taipei turned himself in to city police Monday.
Taipei police interrogated Tseng Wei-hao, his girlfriend Liu Hsin-tung and several other suspects and plan to turn them over to prosecutors on homicide charges later in the day.
The police said Tseng, in his late 20s, and his girlfriend were formally arrested around 2 a.m. after his family persuaded the couple to surrender, at the urging of law enforcement officers.
During his interrogation, Tseng said he did not intend to beat detective Hsueh Chen-kuo to death and only wanted to "teach him a lesson," according to police. The main suspect also said that he and his girlfriend had fled the scene of the crime because they were scared, the police disclosed.
Detective Hsueh died early Sunday after being beaten up by a violent mob outside the ATT 4 FUN department store in Taipei's Xinyi District.
The 38-year-old detective was assaulted by a group of around 50 suspects with sticks and knives in an ordeal that lasted at least three minutes. He sustained multiple contusions to his head and was declared dead after being rushed to the hospital, police said Sunday.
Since then, more details about the incident have emerged.
Police said Hsueh, who was off duty, was meeting a colleague Saturday night for dinner in Xinyi District, which is part of their beat.
The colleague arrived first and called Hsueh when he saw an angry group of people heading toward a nearby nightclub in the department store, police said.
Police said the two detectives tried to intervene to prevent a fight.
In their initial investigation, police found that Tseng, his girlfriend and four of their friends had been quarrelling with another customer in the nightclub early Saturday and Tseng was thrown out of the club after he beat up a security guard who attempted to intervene.
Police suspected that Tseng had rounded about 50 members of a gang to go to the club on a revenge mission.
During the fight that broke out, Hsueh was killed and his colleague sustained some non-life threatening injuries to the head.
All of the night clubs in the ATT 4 FUN department store have been closed since the incident and the city government has vowed to institute a system to check on nightclubs in the Xinyi District.
(By Lin Chang-shun and Christie Chen)ENDITEM/pc
Related:●Sept. 14: Detective dies after being beaten by mob