48 confirmed dead, 10 injured in TransAsia plane crash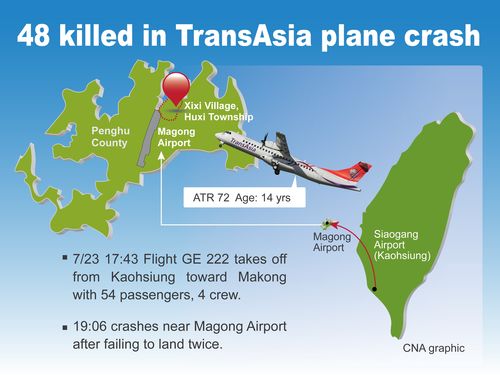 Taipei, July 24 (CNA) Forty-eight people died and ten people were injured after a TransAsia Airways flight crashed on the outlying island county of Penghu Wednesday, the airline confirmed Thursday morning.
The 58 people on board included two foreigners, the airline said in a statement. The two -- Jeromine Deramond and Penelope Luternauer -- were believed to be French nationals.
TransAsia Airways provided the numbers after some confusion overnight over the number of people on board.
Another list showing the names of the injured did not include those of the foreign passengers. The pilot and the co-pilot were not on the list, either.
Family members of the victims have taken a charter flight at 6 a.m. to Magong airport, where the accident took place, it said. The ATR-72 aircraft crashed into a residential neighborhood after an apparent failed attempt to land at the airport.
The airline said it has decided to offer each family of the victim NT$200,000 (US$6,600), while the deceased would get another NT$800,000 funeral subsidy.
TransAsia said the pilot, Lee Yi-liang, had a flight operation experience of 22 years, while that of co-pilot Chiang Kuan-hsing was 2.5 years.
The flight, coded GE 222, took off from Kaohsiung, southern Taiwan for the half-hour flight and crashed at about 7 p.m. when Penghu was still under the influence of Typhoon Matmo.
(By Lee Hsin-Yin)ENDITEM/jc
Related stories:●July 24: Black boxes of crashed plane found, awaiting examination●July 24: TransAsia flight requests two go-arounds before crash: CAA●July 24: Weather conditions at time of crash met safety standards: CAA head
Casualties:●July 24: Survivors, witnesses of deadly crash report 'fire everywhere'●July 24: 31 bodies identified in TransAsia crash: CAA●July 24: Father recounts how daughter broke free from plane wreckage●July 24: Mourning interrupted by TransAsia Airways plane crash●July 24: Carpentry master, firefighter among TransAsia crash victims●July 24: Penghu residents injured in plane crash discharged from hospital