Anti-nuclear activists rally in front of Presidential Office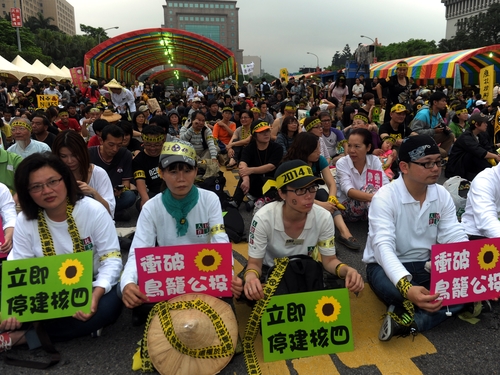 Taipei, April 26 (CNA) Anti-nuclear activists staged a sit-in demonstration on Ketagalan Boulevard in front of the Presidential Office Saturday to express opposition to the nearly completed fourth nuclear power plant.
Taipei police estimated the number of protesters at 5,000 at 4 p.m., swelling to 12,000 by 7 p.m., although the organizers of the demonstration put the number at 30,000.
To cope with the crowds, security around the Presidential Office was boosted by about 1,800 police, while barbed wire barricades were erected at road junctions leading to the building.
The police authorities said that since that morning, traffic controls had been imposed on major streets around the area, adding that controls could be extended to more areas depending on developments.
In addition, a number of police officers were deployed at several government offices near Ketagalan Boulevard, including the Legislative Yuan and the Executive Yuan, to prevent protesters at the rally spreading out from the Presidential Office to occupy nearby government offices.
The demonstrators were demanding that the government immediately halt construction of the fourth nuclear power plant in New Taipei's Gongliao District and decommission the existing three operating nuclear power plants, saying that otherwise, they will stage indefinite protests. They also called for lowering the voter turnout threshold for holding a national referendum on the fate of the fourth nuclear plant.
The existing guidelines for any referendum require the participation of more than half of the country's eligible voters for a referendum to be valid.
The protesters expressed their rejection of the ruling Kuomintang's resolution "to complete construction of the plant but hold off on the installation of fuel rods as well as the plant's operations, pending a referendum."
In addition to political figures, several well-known civil rights activists also showed up to show support for the anti-nuclear power cause, including Lin Fei-fan, one of the student leaders of the recent student-led occupation of the Legislature.
Anti-nuclear activists and the main opposition Democratic Progressive Party (DPP) planned a series of anti-nuclear demonstrations over the weekend after Lin Yi-hsiung, a former DPP chairman, started a hunger strike to protest the fourth nuclear plant.
Earlier Saturday, the DPP kicked off a road run to show opposition to the plant.
In related news, President Ma Ying-jeou, who also serves as chairman of the ruling Kuomintang, and Premier Jiang Yi-huah was scheduled to meet KMT mayors and magistrates the following day to discuss the power plant project and try to build a consensus on the issue, a party official said.
(By Liu Jian-bang, Chen Chi-chung and Evelyn Kao) ENDITEM/J
[In front of the Presidential Office in Taipei, Sunday morning]
Related stories:●April 26: DPP leader warns of 'unrest' over nuclear dispute●April 25: President, DPP head fail to find common ground on nuclear issue●April 22: Ex-DPP chief begins fast to push for scrapping of nuclear plant●April 21: Premier, DPP head fail to reach consensus over nuclear plant
(Click here for stories before the debate on nuclear power was recently rekindled.)