Panda getting better at nursing her cub: Taipei Zoo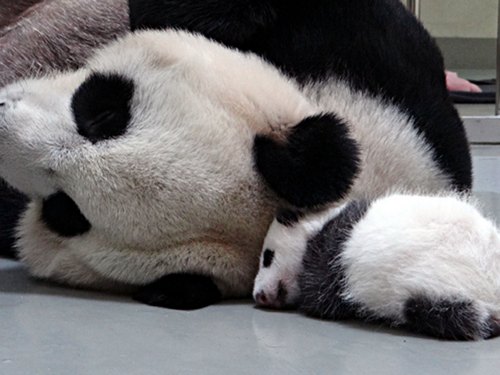 Taipei, Aug. 16 (CNA) Giant panda Yuan Yuan, which gave birth to her first cub last month, is quickly becoming better at nursing her newborn, which means that the cub may soon be left with her mother full time, Taipei Zoo said Friday.
Yuan Yuan has been adapting well to the cub's needs, zookeepers said after several attempts over the past week to encourage bonding between the two pandas.
The cub, Yuanzai, was taken away from her mother shortly after birth and placed in an incubator for fear that Yuan Yuan may inadvertently hurt her. Newborn giant panda cubs are very small and frail compared with the adults.
The zoo said Yuan Yuan, a first-time mother, no longer panics when her cub cries and can now interpret its signals of hunger or fear.
For instance, the zoo said, instead of hurrying to pick up Yuanzai whenever she makes a sound, Yuan Yuan remains relaxed once she thinks the sound has no significance.
The zoo has been leaving the pair together for longer periods and has occasionally let the cub remain with its mother overnight to observe their interaction.
The time is fast approaching when Yuanzai could be left with Yuan Yuan full time, the zoo said.
The cub, which weighed 183.4 grams at birth, is now over 2,100 grams and is expected to open her eyes for the first time within a week, zookeepers said.
Yuanzai was born after four years of artificial insemination attempts, using sperm from the only other giant panda at the zoo, Tuan Tuan.
The pair of giant pandas was given to Taiwan four years ago by China to symbolize warmer ties between the two sides.
(By Lee Hsin-Yin)
ENDITEM /pc