DEFENSE
/
Taiwan's military likely to get upgraded rifle model: Bureau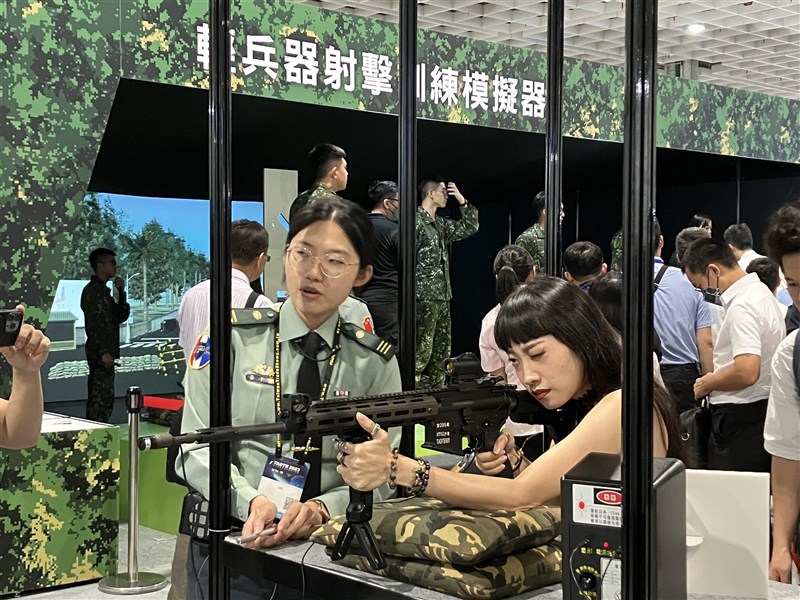 Taipei, Sept. 15 (CNA) Development and testing of the XT112 assault rifle, which is set to replace the existing models used by Taiwan's military, will be completed this year, the Armaments Bureau said on Friday at the 2023 Taipei Aerospace & Defense Industry Exhibition.
The entirely domestically developed and built rifle features numerous improvements over the existing T91 and T65K2 models, said Lieutenant Lee Chien-ting (李建霆), who is involved in the research and development of the rifle at the bureau.
The barrel of the XT112 rifle is polygonal and thickened compared with the T91 and T65K2 models, resulting in the XT112's improved accuracy of groups of 9.8 cm at 100 m compared to the T91's groups of 14.5 cm at 100 m, Lee said.
The barrel also boasts a longer life expectancy of 10,000 rounds, compared with 6,000 rounds with previous models.
In addition, the selector lever, the magazine release button, and cocking handle latch, are present on both sides of the XT112 to allow easy access regardless of the user's dominant hand, whereas on the previous models they are only present on one side, he said.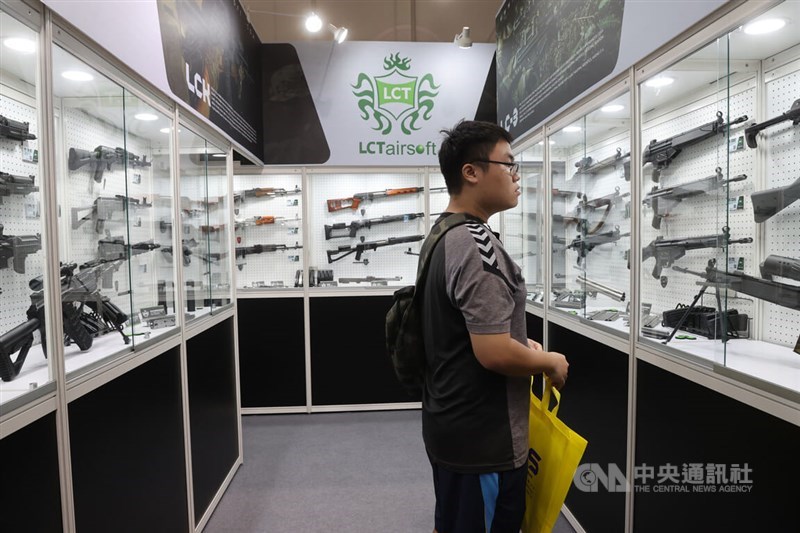 The Pic rail is built to international specifications to allow for greater freedom for mounting accessories such as grenade launchers, sights, and laser aiming modules, which can now be mounted all along the rail according to the user's needs, while on previous models these accessories can only be mounted on fixed positions, he said.
The foregrip contains a retractable bipod that snaps into place when needed, allowing the user to shoot at low postures, he said.
The magazine has a see-through case that allows the user to check the ammunition level at a quick glance and is made of a composite plastic material, making it more durable and less prone to jamming compared to the aluminum magazine on the T91 or T65K2, he said.
Furthermore, the tip of the steel flash suppressor comes with indentations, meaning it can be used as a melee weapon, a window breaker, and a wire cutter, Lee said, adding that while such flash suppressors are only present on existing rifle models by request, they will be standard issue on the XT112s.
The XT112s are expected to undergo operational testing this year and if qualified will gradually replace rifle models currently in use across military services, Lee said.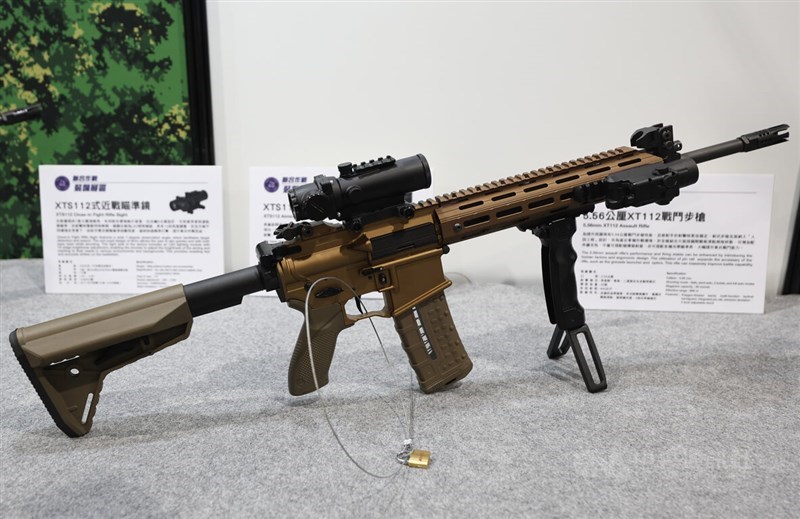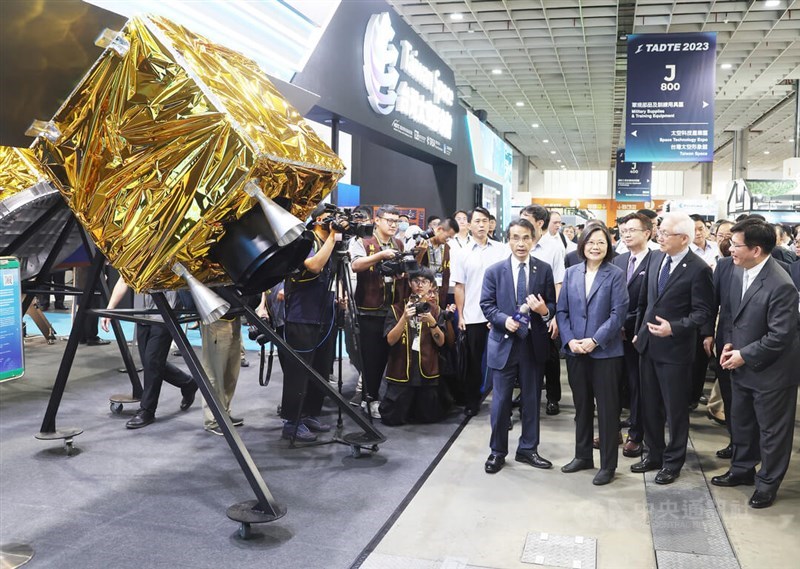 (蔡英文), accompanied by Defense Minister Chiu Kuo-cheng (邱國正), visited the exhibition Friday morning, and stopped by the area where the XT112 was displayed to learn about the weapon.
She was also briefed on the indigenously developed Teng-Yun unmanned aerial vehicle and a domestically built reconnaissance tactical vehicle.
The president visited the Taiwan Space Pavilion, U.S.A. Pavilion, and the booths of Lockheed Martin, Northrop Grumman, and Aerospace Industrial Development Cooperation, among others.
Related News
Sept. 14: Taiwan defense expo returns after 4-year hiatus; U.S. joins for first time
Sept. 14: Northrop Grumman pledges US$100 million for Taiwan projects in 2024
Sept. 13: Military shows attack drone, jet simulator at press preview of biennial defense show
Sept. 12: Taiwan military to showcase new drone, rifle, exoskeleton suit at defense show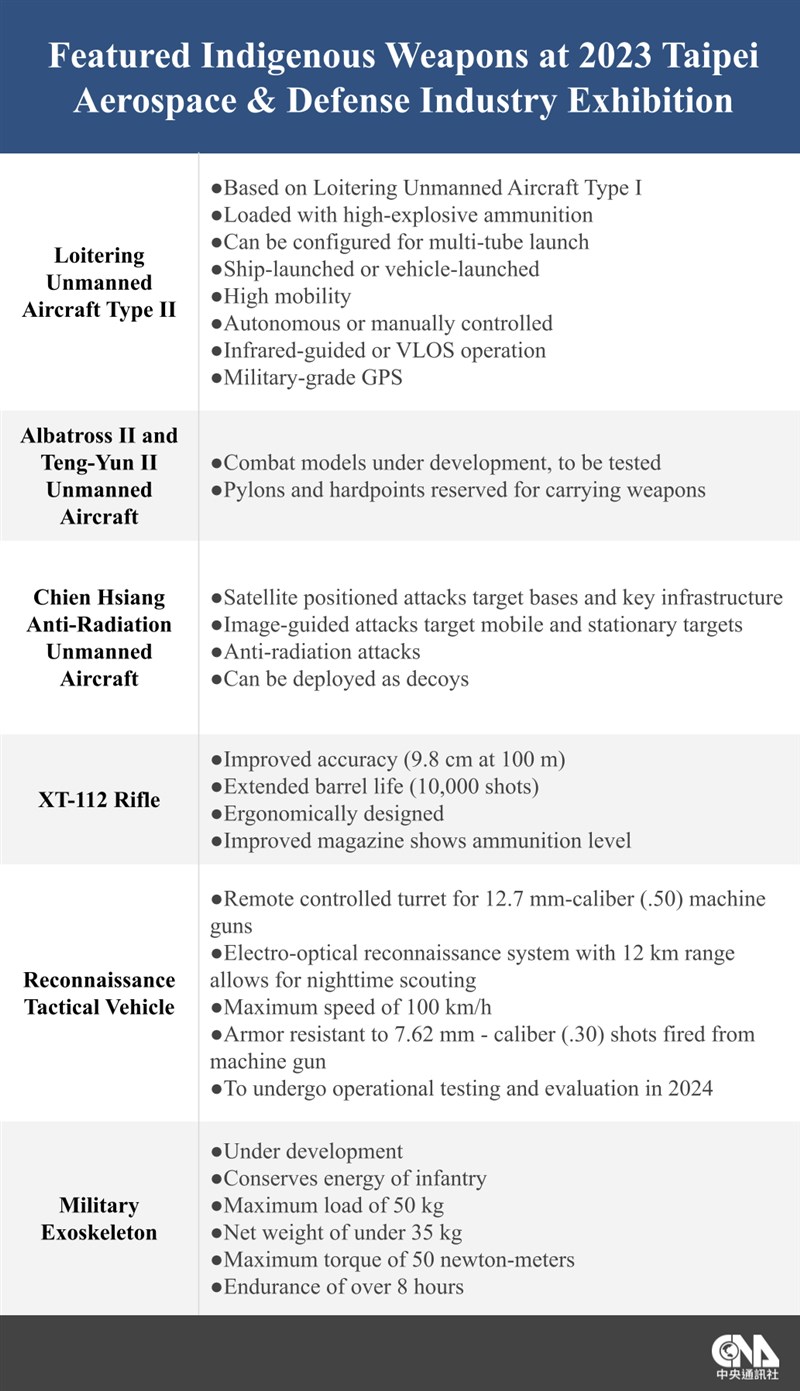 View All