More startups needed to back Taiwan's IC-driven industrial innovation: NSTC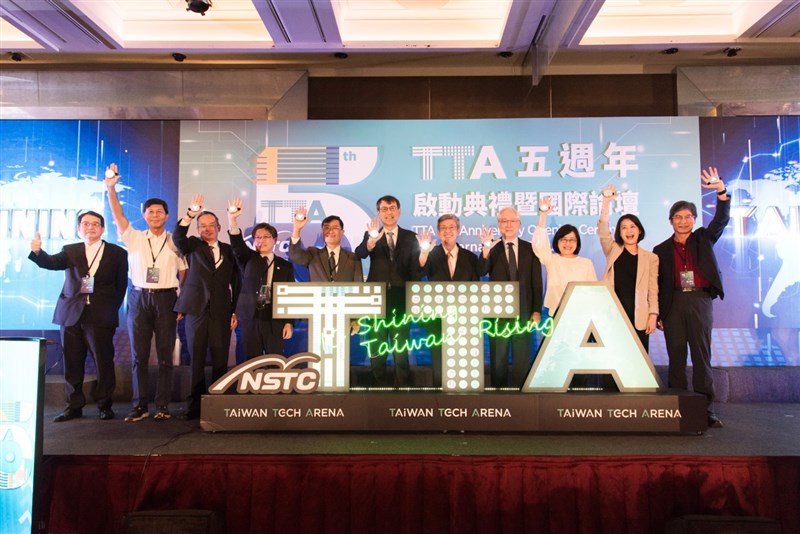 Taipei, Sept. 11 (CNA) Taiwan's first international startup building program, which celebrated its 5th anniversary on Monday, is expecting more chip startups to be fostered in Taiwan in the future because of the country's strong semiconductor industry, the National Science and Technology Council (NSTC) said.
Taiwan Tech Arena (TTA), an international innovation and entrepreneurship base initiated in 2018 by the NSTC (then-Ministry of Science and Technology), celebrated its 5th anniversary on Monday.
Since its inception, it has cultivated more than 700 startup teams and helped fundraise more than NT$24 billion (US$750 million), the council said.
Premier Chen Chien-jen (陳建仁), who attended the celebration forum, said that 46 percent of the 700 are international teams that cooperate with Taiwanese companies and that the startups focus on a range of areas, including artificial intelligence (AI) and precision health.
Also, during the Covid-19 pandemic, with Taiwan's daily life relatively unaffected, "TTA's Black Card Program attracted 46 overseas entrepreneurs and investors who set up 15 companies in Taiwan, with their registered capital totaling more than NT$200 million," Chen said.
He added that since the government had approved the "Action Plan for Enhancing Taiwan's Startup Ecosystem" in 2018, more than 90,000 young entrepreneurship loans, totaling NT$73.5 billion, had been underwritten.
NSTC Minister Wu Tsung-tsong (吳政忠) reiterated the goal announced by the government in August that calls for Taiwan's global IC design market share to increase to 40 percent by 2033, as well as for the country to have an 80 percent share of the world's 7-nm-and-below advanced manufacturing process.
"Taiwan has a good semiconductor ecosystem -- from IC design through manufacturing to packaging. With the generative AI boom, there is a great prospect for startups in Taiwan, together with the semiconductor industry here, to tap into the new technology," Wu said.
"The 10-year initiative -- officially called the Chip-Driven Industrial Innovation Plan -- aims to shorten the time between the development of an idea to product completion," Wu added.
Bor-sung Liang (梁伯嵩), Senior Director of Mediatek's Strategic Technology Exploration Platform, delivered a keynote speech at the event and agreed there is much room for Taiwan's IC design industry to develop.
Liang said the IC industry, with about US$600 billion in revenue a year, leverages the global ICT industry of US$5,470 billion.
He described the whole ICT (Information and Communication Technology) industry as an upside-down triangle: in the widest top layer sits the service providers (such as internet companies, telecom operators, and content providers) who command the widest range of IC applications; in the middle layer sits those in the device supply chain (global brands, Original Design Manufacturer (ODM), and Electronic Manufacturing Services (EMS)); and the IC supply chain (IC design, foundry, and equipment and materials), which is the most specialized, sits in the bottom tip.
Taiwan has successfully ridden the wave of integrated device manufacturing (IDM) division into fabless IC design and foundry work starting in the mid-1980s, "or had even led the trend," Liang said. "Now, one-third of the world's IC chips are produced using this division of labor."
According to 2020 figures and excluding IDM companies, "Taiwan has 78% of the production value in foundry service, and 59 percent of the IC packaging and testing, meaning that Taiwan's manufacturing is pretty mature, while IC design, at only 22%, has great room for improvement," said the expert from the largest IC designer in Taiwan.
Even in IC design, Taiwan focuses too much on logic IC rather than memory and DAO (discrete, analog, and others like optoelectronic devices and sensors), and within logic IC, there is too much of a focus on areas relating to mobile phones, consumer electronics, and PCs, rather than infrastructure, industrial and automotive applications, Liang said.
He further stressed that in the future, the complexity of ICs and the difficulty and cost of IC design will certainly rise. "In this case, common platforms and software will be extremely important."
Another problem Taiwan's IC design industry will face is a talent shortage, Liang said.
"While only 52 percent and 19 percent of those working in IC manufacturing, and packaging and testing, respectively, have master's or doctoral degrees, the number rises to almost 70 percent when it comes to IC design," Liang pointed out.
"Also, while about 70 percent of the 52,000 people in IC design majored in electrical engineering or information, the figures are 30 percent and 41 percent, respectively, in IC manufacturing, and packing and testing."
IC design will require even more specialized graduates, so it is worrying to see that the percentage of STEM graduates has fallen from close to 40 percent in 2012 to about 32 percent in 2021, Liang said.