U.S. chip ban on China to affect global industry: TSMC founder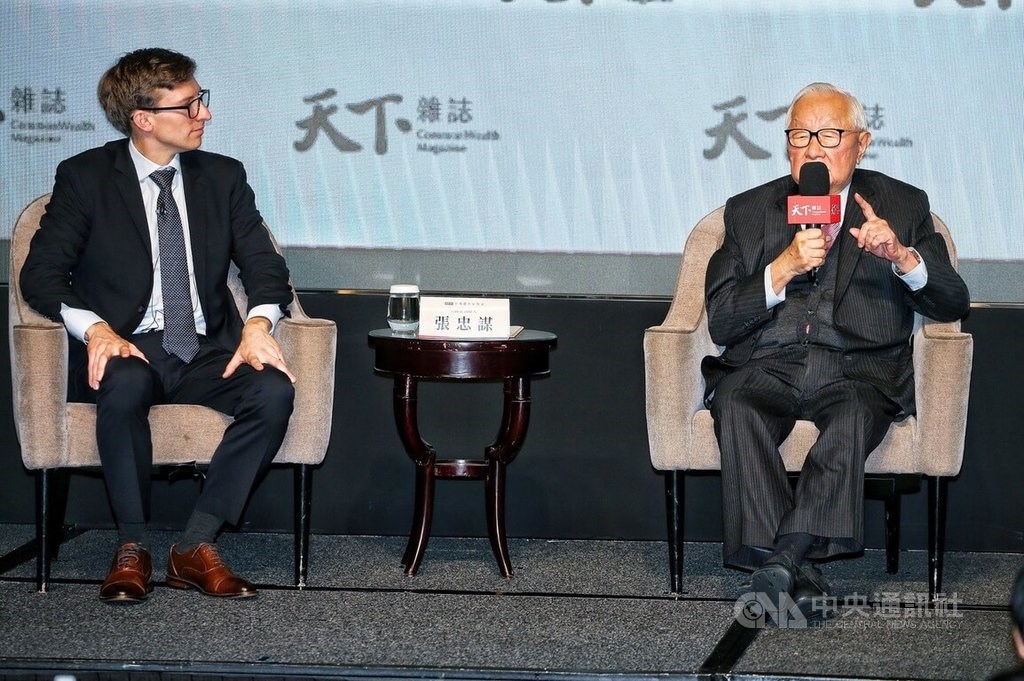 Taipei, March 16 (CNA) Morris Chang (張忠謀), founder of the world's largest contract chipmaker TSMC, said Thursday the United States' chip ban on China will affect the semiconductor industry around the world.
"Globalization is dead" and free trade is now "in danger" amid the chip embargo to China, Chang said during a discussion with American historian and "Chip War" author Chris Miller in Taipei.
The retired businessman who built Taiwan Semiconductor Manufacturing Co. into a chip manufacturing powerhouse was referring to the U.S. restrictions on exporting advanced chipmaking equipment to China introduced last October.
Other countries that are reportedly following suit include the Netherlands and Japan.
Chang noted that he "supported" the U.S. policy, a move widely seen as seeking to hobble China's progress on the production of advanced chips that are used ubiquitously, in items ranging from consumer products to military equipment.
However, Chang went on, those restrictions will increase the cost of chip manufacturing, which will in turn affect the yield of chip production.
"We are going to be in a different game," Chang said.
Miller, whose book discusses the development of the chip industry, provided a different insight.
According to him, while chips are sold around the world, the semiconductor industry is dominated by a handful of countries, such as Taiwan, Japan, South Korea, and the Netherlands.
Miller's book provided some figures to support his argument.
It says almost 90 percent of the world's most advanced chips are produced in Taiwan, and the Dutch company ASML is the only company in the world that makes the extreme ultraviolet lithography machines needed to make the most advanced chips.
"In some ways, the chip industry is very globalized; in other ways, it's actually extraordinarily concentrated in a couple of countries," added Miller, who is currently an associate professor of international history at the Fletcher School of Law and Diplomacy at Tufts University in the U.S.
Speaking of the U.S. chip ban on China, Miller observed that it would have some impact on the latter's efforts to advance its semiconductor industry.
According to him, the technological advances made by chipmakers in Taiwan, Japan and South Korea were achieved by integrating international supply chains.
These companies were able to acquire the most advanced tools and best components on the international market to produce chips, which they in turn sold around the world, he said.
"The challenge that Chinese firms face right now is that it's no longer possible [for them] to follow the strategy that Taiwanese and South Korean firms followed over the past several decades," he said.
The fact that China is blocked access to advanced chipmaking tools will make it "hard" for the country's semiconducting manufacturers to upgrade their processes, he said.
"I think that's a real dilemma for Chinese firms," he said. "It's not simply a question of more capital expenditure. It's not simply a question of selling to the domestic market."