CORONAVIRUS
/
Taiwan researchers find key to COVID-19-induced blood clots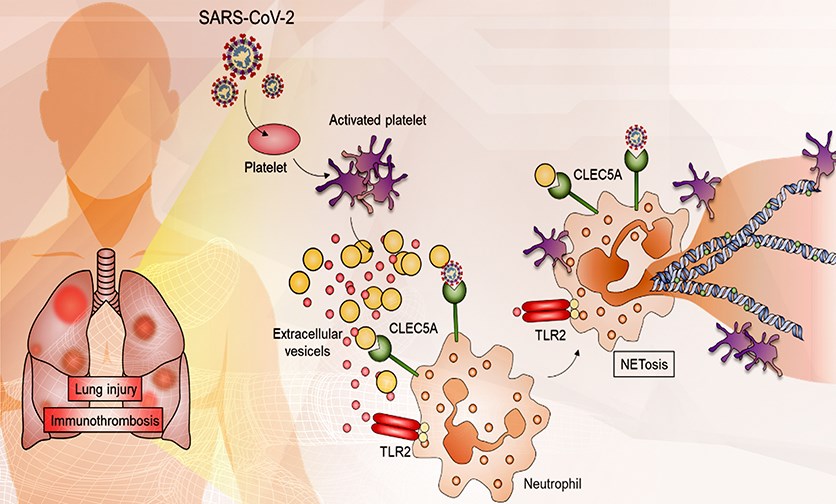 Taipei, Sept. 15 (CNA) An Academia Sinica research team has identified two key receptors that could provide a roadmap for treating blood clots caused by COVID-19, and long-term complications associated with the disease.
The team led by Hsieh Shie-liang (謝世良) sought to uncover the mechanism behind the formation of neutrophil extracellular traps (NET), a contributing factor in thrombosis among COVID-19 patients.
In studies of dengue fever patients, Hsieh's team had previously found platelets caused the release of extracellular vesicles (EVs) that enhanced NET formation via two receptors -- CLEC5A and TLR2.
Hsieh's team hypothesized that this mechanism also contributed to blood clots in critically ill COVID-19 patients with high levels of platelet-derived EVs.
The team compared the EVs of healthy donors and of COVID-19 patients, and found that the former did not induce NET formation.
Using mice as test subjects, the team found that while the SARS-CoV-2 virus alone induced NET formation, the presence of platelets increased this significantly.
According to the team, these findings showed platelets were a potent enhancer of SARS-CoV-2-induced NET formation.
Mice with CLEC5A or TLR2 knocked out demonstrated inhibited SARS-CoV-2-induced NET formation, while mice with both receptors blocked saw NET formation almost completely suppressed, the team said.
The team added that the results were consistent with or without the presence of platelets, which proved the critical role the two receptors played in SARS-CoV-2-induced NET formation.
Hsieh said that targeting CLEC5A and TLR2 could provide a promising roadmap for future studies on alleviating blood clots caused by COVID-19 and long-term complications associated with COVID-19
The research was published in the July 11th edition of Journal of Biomedical Science.
Related News
Sept. 14: Taiwan researchers find possible key to encephalitis in child COVID cases
Sept. 13: Japan to relax entry rules for Taiwan citizens from Sept. 14
Sept. 9: Health Ministry expands eligibility for Chinese herbal COVID-19 drug
Sept. 2: Taiwan grants EUA for 2nd-generation Moderna COVID-19 vaccine
Aug. 28: Taiwan begins rollout of Pfizer-BNT vaccines for young children
Aug. 24: Omicron subvariant-induced outbreak forecast to peak earlier: CECC
New COVID-19 rules
Sept. 8: Taiwan to ease COVID-19 in-person class suspension rules
Sept. 5: Taiwan to resume visa-free entry for multiple countries from Sept. 12
Sept. 1: Taiwan's new COVID-19 policies taking effect Sept. 1
Sept. 1: Taiwan's new COVID-19 screening rules for hospital admission
Recent cases
Sept. 15: Taiwan reports 45,470 new COVID-19 cases, 57 deaths
Sept. 14: Daily number of new COVID-19 in Taiwan approaches 50,000
Sept. 13: Taiwan reports 47,051 new COVID-19 cases, 17 deaths
Sept. 12: Taiwan reports 25,583 new COVID-19 cases, 28 deaths
Sept. 11: Taiwan reports 32,128 new COVID-19 cases, 29 deaths
View All