Taiwan excels at Intel fair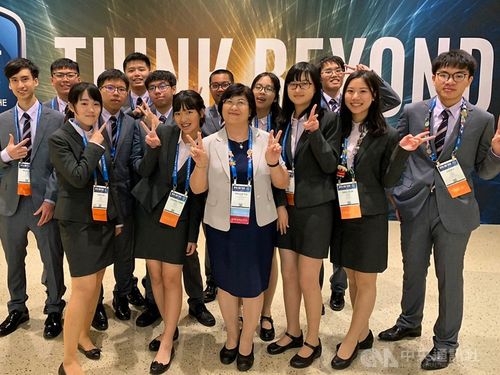 Los Angeles, May 18 (CNA) Taiwanese high school students took nine awards at the annual Intel International Science and Engineering Fair (ISEF) in Phoenix, Arizona Friday.
The 2019 competition, said to be the largest international pre-college science competition in the world, brought together 1,842 students from 82 countries for the six-day event that ran May 12-17.
Taiwan was represented by eight science, technology, engineering and math (STEM) projects submitted by a total of 13 students, who were selected by the National Taiwan Science Education Center led by Director Chen Hsueh-yu (陳雪玉).
Keelung Municipal Anle Senior High School student Chen Huai-pu (陳懷璞), who took second place in the Grand Award's engineering category for his "development and application of harvesting kinetic energy from fish," told CNA that the event was a great learning experience, as it was his first time taking part in an international competition.
He has found a way to harness the energy produced by fish as they swim, through the use of a small device he developed that can be attached to a fish's body to generate electricity.
According to Chen, the device could potentially slash the cost of seafloor research surveys, as it could be used in an application that would allow a survey of the seafloor through the movement of fish.
Another second-prize winner was Luo Chih-i (勞志毅), who won the energy-physical category for his "bamboo as a new thermoelectric material."
This year, the third-prize winners included Hsung Tsung-tien (熊宗恬), Cheng Shu-yun (鄭舒允), Cheng Zong-hong (鄭宗弘) and Chen Yun-chi (陳韻淇), who won in the categories of behavioral and social sciences, materials science, mathematics, and cellular and molecular biology.
Chien Wei-ying (簡維瑩) and Chang Yu-hsien (張宇嫻), meanwhile, took fourth prize for a joint project in the chemistry category.
Three special awards were also awarded to other students from Taiwan.
Hsiao Bo-jhih (蕭柏智) and Fan Chieh-hsiang (范傑翔) of the Affiliated Senior High School of National Taiwan Normal University in Taipei, meanwhile, also grabbed a Certificate of Honorable Mention for a project they dubbed "Remote Heavy Rainfall from Tropical Cyclones."