Asustek unveils ZenFone 6 with flip camera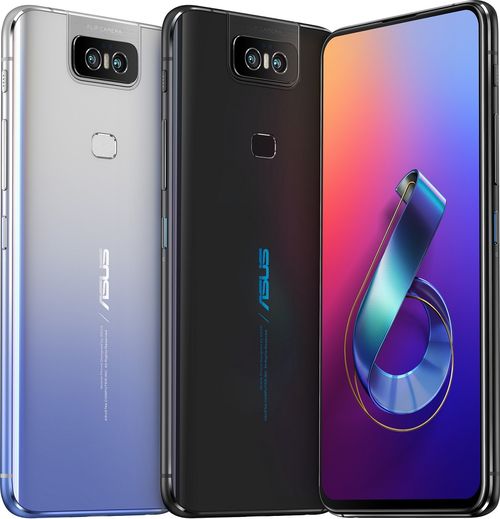 Taipei, May 17 (CNA) Taiwan-based PC brand Asustek Computer Inc. unveiled its latest flagship model -- the ZenFone 6 -- and its unusual flip camera in Spain overnight, the Taiwanese company said Friday.
In a statement, Asustek said the latest ZenFone with a 6.4-inch edge to edge screen comes with a camera that flips up from the back of the phone, eliminating the need for "cutouts" used by other models to make room for camera lenses and other sensors.
The flip camera, which allowed Asustek to maximize the size of the phone's screen, was the first used in any of the company's smartphones.
Asustek Chairman Jonney Shih (施崇棠) said in the statement that the launch of the ZenFone 6 showed the company is determined to make breakthroughs in innovation and that it will not compromise when it comes to strengthening its designs and technologies.
The flip camera is made of liquid metal, which is about 20 percent lighter than a camera made of stainless steel but about four times stronger than a stainless steel camera, Asustek said.
The new phone has two lenses: one 48-megapixel lens in the main camera and the other 13-megapixel wide-angle lens in the front, which can be used both for group selfies and wide-angle shots, Asustek said.
The ZenFone 6 is powered by Qualcomm's cutting edge 855 Snapdragon processor and has a 5000 mAh battery, which will allow use for two days in a row after a full recharge, according to the company.
Asustek said it is scheduled to introduce the ZenFone to consumers in Taiwan on May 22 and will announce the pricing for the new gadget at that time.
Asustek, which made its name as a personal computer brand, has built up a line of low- and mid-market smartphones to help diversify its sources of revenue because of a long-term PC market slowdown.
In the first quarter of this year, Asustek posted a net profit of NT$2.19 billion (US$70.04 million) and earnings per share of NT$2.9, compared with a net loss of NT$2.82 billion and a loss per share of NT$3.8 in the fourth quarter of 2018.
The fourth quarter losses came after Asustek booked one-time losses of about NT$6.2 billion from its smartphone operations.
Asustek announced a management reshuffle in December 2018 with Chief Executive Officer Jerry Shen (沈振來) stepping down at the end of the month, kicking off a period of business restructuring.
Under a new dual leadership model, S.Y. Hsu (許先越) and Samson Hu (胡書賓) became Asustek's CEOs on Jan. 1 to help guide the company's move into the AIoT business.
Asustek is also planning to overhaul its smartphone business by targeting the high-end market and also catering phones to gaming users.