Two chemical engineers win Franco-Taiwanese science prize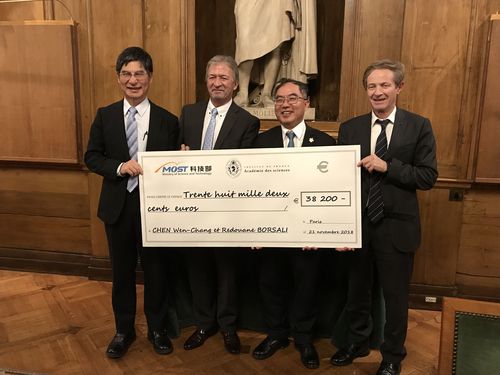 Paris, Nov. 21 (CNA) Two chemical engineering researchers received the 2018 Franco-Taiwanese Scientific Grand Prize in Paris Wednesday for their joint study on the use of recycled materials for electronics applications.
Chen Wen-chang (陳文章), dean of the College of Engineering at National Taiwan University, and Redouane Borsali, a senior research fellow at France's National Center for Scientific Research (CNRS), won this year's Franco-Taiwanese Scientific Grand Prize, an award co-founded by the French Academy of Sciences and the Ministry of Science and Technology (MOST) of Taiwan.
The prize was presented by Taiwan's Minister of Science and Technology Chen Liang-gee (陳良基) and Sébastien Candel, president of the French Academy of Sciences.
Chen Wen-chang received his PhD in chemical engineering from the University of Rochester in 1993 and his studies and teaching mainly focus on the applications of electronic and optoelectronic polymers and the synthesis and characterization of optical polymer films and polymer waveguides.
According to Chen Wen-chang, he and Borsali have since 2011 collaborated on the study of advancing green materials for electronic and energy storage applications to replace inorganic materials such as electronic components.
Borsali earned his PhD in polymer sciences at Louis Pasteur University in Strasbourg and is director of the POLYNAT Carnot Institute and the leader of a research team at the Centre de Recherches sur les Macromolécules Végétales (CERMAV) that focuses on the development of a hybrid material that combines sugar-based and petroleum-derived (silicon containing polystyrene) polymers with widely different physical/chemical characteristics.
The award, which offers a cash prize of 38,200 euros (NT$1.34 million), is presented in November every year.