HTC forecasts global VR business will top smartphones in 4 years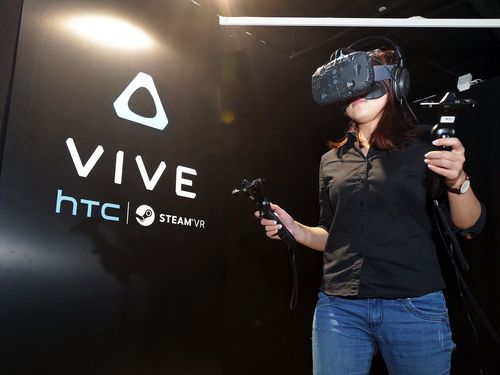 Taipei, April 25 (CNA) Taiwan-based HTC Corp. (宏達電), which recently launched its first virtual reality headset the HTV Vive, has projected that the global VR market will overtake the smartphone market in four years.
In a report on China's Sina website, Wang Tsung-ching (汪叢青), head of HTV Vive China, said it took only five years for smartphone sales to jump past personal computer sales in terms of volume, and now that smartphone demand is slowing, VR devices are expected to become the next big consumer technology on the market.
With the rapid evolution of technology, the VR market is likely to overtake the smartphone market in four years, creating a big impact in the high tech sector and the daily lives of consumers, Wang said.
The HTC Vive, jointly developed by HTC and U.S. video game supplier Valve, was unveiled at the Mobile World Congress (MWC) show in March 2015.
The headset is equipped with tracked controllers that allow wearers to inspect objects from every angle and interact with their surroundings. The gadget, priced at US$799, is now on sale globally. HTC's venture into VR technology is seen as an effort to diversify its product line amid tight competition in the global smartphone market.
●HTC Vive demo at Taipei International Book Exhibition in February:
[From HTC]
According to a Gartner research report, worldwide smartphone sales for 2016 are expected to grow only 7 percent in 2016, marking the first year of single-digit growth in a saturated market.
Amid optimism toward HTC's VR operations after Wang's forecast, investors rushed to pick up HTC shares soon after the local equity market opened Monday.
As of 12:13 p.m., shares of HTC had climbed 1.30 percent to NT$85.90 (US$2.66), while the weighted index was up 0.15 percent at 8,548.14 points.
Targeting the VR market in China, HTC will launch pre-orders for the Vive on TMall (天貓), one of China's largest e-commerce platforms, on Tuesday.
HTC will also work with Jingdong Mall (京東), another Chinese e-commerce operator, to sell the HTC Vive as part of a package that will include its latest flagship smartphone the HTC 10.
On Tuesday, HTC Chairwoman Cher Wang (王雪紅) will address a conference on the HTC Vive in Beijing, which is also part of the company's promotional efforts in the huge China market.
Several big names in the VR business are expected to attend the conference, including Valve game designer Chet Faliszek; Hua Yong (華勇), founder of the Chinese online gaming company Hangzhou Shunwang Technology Co. (順網); and Hubert Larenaudie, founder and senior vice president of game engine developer Unity Technologies.
HTC has also scheduled a HTC Vive summit in Shenzhen in March.