Wu gives public speech in Estonia amid China protests over Taiwan office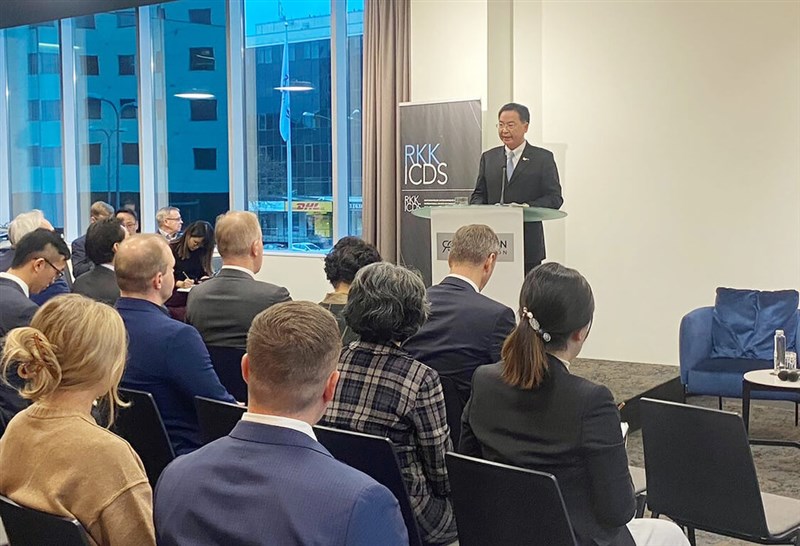 Taipei, Nov. 9 (CNA) Foreign Minister Joseph Wu (吳釗燮) on Wednesday gave a public speech in Estonia where he praised the Baltic government for its courage in allowing him to speak publicly despite Chinese protests over a prospective Taiwanese representative office.
Addressing a seminar hosted by the International Center for Defense and Security in Tallinn (ICDS), Wu said it was a great pleasure to make his first-ever visit to Estonia, adding it was especially memorable to do so in his capacity as foreign minister.
"This is nothing easy. Some rich and powerful European governments are not equipped with the same courage. Here is my salute to Estonia," Wu said.
In his Wednesday address, Wu said despite the geographical distance, Estonia and Taiwan are both facing authoritarian neighbors, namely Russia and the People's Republic of China (PRC), respectively, and both have made great strides in democratization around the same time in the early 1990s.
Amid the rising threat from the PRC against Taiwan, Wu told his Estonian audiences that more than 50 percent of global maritime commercial transportation goes through the Taiwan Strait, and more than 60 percent of semiconductors are produced in Taiwan.
"Therefore, any conflict in the Taiwan Strait will lead to severe consequences for not just the region, but the entire global economy. International concern over China's unilateral attempts to change the status quo is very effective in keeping PRC aggression at bay," he said.
Facing these security challenges, Wu said, Taiwan was working closely with its partners, especially the United States, to strengthen its defense capabilities.
Taiwan is also fortunate to have friends around the world voicing their support, including Estonia, Wu said.
Wu cited the visit of Marko Mihkelson, chairman of the Foreign Affairs Committee of the Estonian Parliament, in August. In September, former Prime Minister Andrus Ansip also visited Taiwan to take part in a high-level forum.
Estonian Health Minister Riina Sikkut called for the inclusion of Taiwan during this year's World Health Assembly, according to Wu.
"We are truly grateful for these shows of support. You make us feel not alone in facing the PRC coercion."
Wu said Taiwan would continue to deepen its ties with like-minded partners like Estonia "in every possible aspect to safeguard our values and the democratic way of life."
Wu is on a visit to Latvia, Estonia and Lithuania, from Nov. 6-12, to attend forums and give speeches in public to underscore Taiwan's resolve to safeguard democracy with like-minded countries, according to the Ministry of Foreign Affairs (MOFA).
Before departing, ERR News, the English language service of Estonian Public Broadcasting, reported last Friday that the Estonian government had agreed to let Taiwan open an economic or cultural representative office in Tallinn, the capital of Estonia, using the name "Taipei."
"Just like many other European Union countries, Estonia is ready to accept the establishment of a non-diplomatic economic or cultural representation of Taipei in order to promote such relations," Estonian Minister of Foreign Affairs Margus Tsahkna was cited by the ERR News report as saying.
"At the same time, we consider it important to boost relations with Taiwan in the fields of the economy, education, culture, relations between civil society organizations and other such areas," Tsahkna said.
In response, Chinese foreign ministry spokesperson Wang Wenbin (汪文斌) said Wednesday that Beijing urged Estonian "to abide by its solemn commitment to the 'One China' principle," by "refraining from allowing Taiwan to set up any official organizations and effectively safeguarding the political basis of bilateral relations."
Meanwhile, in Taipei, MOFA spokesman Jeff Liu (劉永健) said the talks over possibly opening a Taiwan office in Estonia were still ongoing.
"MOFA maintains an open mind on this matter and appreciates that the government of Estonia is continuing discussions with Taiwan," Liu added.
Taiwan already has representative offices in neighboring Lithuania and Lativa, despite not maintaining diplomatic relations with either country.