Full text of President Tsai Ing-wen's National Day address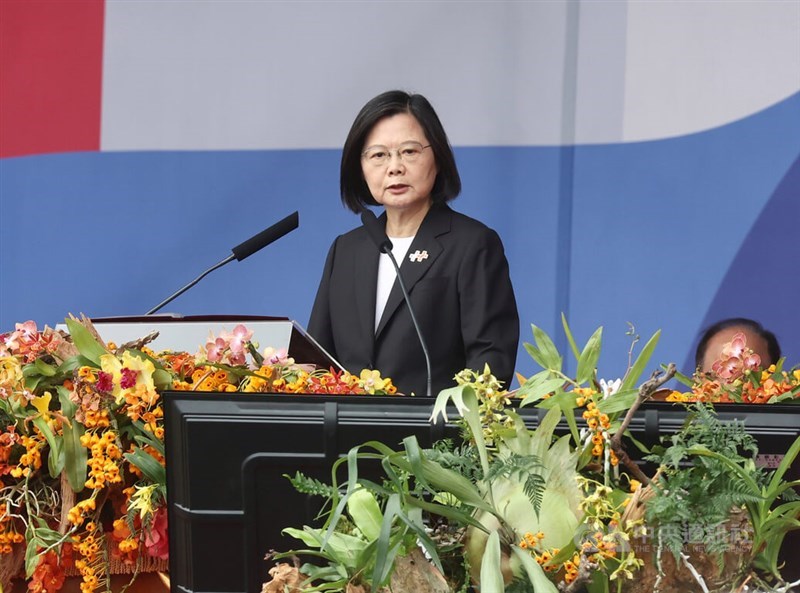 Taipei, Oct. 10 (CNA) President Tsai Ing-wen (蔡英文) used her National Day address Tuesday to underline Taiwan's resolve to defend its sovereignty, saying there was "no room for compromise" when it came to preserving the country's free and democratic way of life.
The following is the full text of her speech, titled "A calm and confident Taiwan: Moving our country forward, making the world a better place":
National Day Celebration Chairperson You Si-kun (游錫堃), President Russ Kun and First Lady Simina Kun of the Republic of Nauru, Governor-General Dame Marcella Liburd of the Federation of Saint Christopher and Nevis, Governor-General Dame Susan Dougan of Saint Vincent and the Grenadines, distinguished guests, dear friends, and my fellow citizens watching on TV and online: Good morning.
Today is the 112th National Day of the Republic of China. After three long years, we are finally taking off our masks to see one another again and are gathered here today to celebrate our country's National Day.
Today we are joined by many compatriots visiting from across the globe as well as many friends from abroad who have not been to Taiwan for three years. On behalf of the people of Taiwan, I extend my sincerest thanks to you all.
Looking back on those challenging three years of responding to the pandemic, it feels like it has been a very long time. But, in fact, there is another path beset with challenges that we have walked for 30 years.
If we do not move forward, we move backward; if we do not progress, our fate will be decided for us
Late last month, the prototype of our first indigenous submarine was launched. Once it has completed testing, this submarine, Narwhal, is set to officially enter into service in 2025.
For the last three decades, producing a domestically developed submarine has been a dream of presidents from different parties. Now, we have made this dream a reality. As we started from scratch, taking this leap required immense courage, because when facing pressure, overcoming obstacles, and standing up to disparaging and false narratives, any hesitation would lead to failure.
But, at the end of the day, we did it. We took a big step forward in our national defense self-sufficiency and further enhanced the asymmetric capabilities of our military. We once again demonstrated our resolve to defend the Republic of China (Taiwan). I believe that the whole world will recognize that Narwhal has taken to the waves to safeguard regional peace and stability.
This is a reflection of the unwavering spirit that has underpinned the Republic of China since establishing itself in Taiwan 74 years ago. As we face unique international circumstances and rapidly changing challenges, if we do not move forward, we will move backward. And if we do not give our all to make progress, we will not be able to decide our own future, our own fate.
Thank you to the people of Taiwan for facilitating reform during challenging times
Over the past seven years in particular, we have seen a complicated and changing political and economic landscape, both internationally and regionally, and on top of that, an unprecedented pandemic and extreme weather. Time and again, these have challenged the resilience of governance in democratic countries as well as the foundation of trust between people in democratic societies.
But not once have I forgotten my pledge to reform, and I am deeply aware of the friction and discomfort that reform brings. I want to thank the people of Taiwan, because we are always able to conquer fear through our solidarity, to resolve hostility through our tolerance, and to overcome challenges through our democracy.
It has been four years since the passing of legislation for marriage equality in Taiwan. I want to thank those who opposed this for their tolerance, making Taiwan, a country where any two people who love each other can start a family and find happiness, the envy of the world.
I am also deeply thankful to all our military personnel, civil servants, and educators for their understanding. To ensure that pension finances are sustainable, together we have achieved what was once impossible - pension reform. This has given the government more financial resources to look after the next generation.
I also want to thank the workers for their understanding. Even though we have yet to complete the last mile of our pension reform, we have from 2020 gradually allocated NT$267 billion to supplement the Labor Insurance Fund. I hope that in the next stage of labor finance reform, we can forge consensus and make steady progress through rational dialogue in society and on a solid financial basis.
Meanwhile, we have raised the minimum wage for eight consecutive years. And, using our accumulated experience, we proposed a draft bill for a minimum wage law and submitted it to the Legislative Yuan for review. I have not forgotten my pledge to look after workers.
Some time ago, I met a married couple from Taoyuan. They were public welfare landlords who were participating in the subletting management scheme. They told me that social housing rentals are not merely "rooms" for tenants, but "homes."
I want to thank our friends from every corner of Taiwan who have so passionately participated in the promotion of social housing. Over these past seven years and more, we have overcome the difficulties of this endeavor's early phases and set a foundation. Today, the social housing movement has shed the labels of the past and become a force for good in our communities. Our goal of reaching 200,000 social housing units in eight years is set to be completed by the end of 2024.
There is still a long way to go to achieve housing justice. But with the experience we have attained over the past few years, I believe we can accelerate our progress down the right track. I recall that when I first took office, Taiwan's electrical operating reserve had hit a low of 1.64 percent. But during these past seven years, we have substantially increased energy supply and have done our utmost to promote an energy transition. And last year, we finally reached a turning point with green energy generation surpassing that of nuclear energy for the first time.
These days, as we have stronger sunlight and warmer weather, we need not worry about afternoon electricity shortages. At evening peak hours, our operating reserve has held steady between 7 and 10 percent.
We are in a race against time, overcoming all manner of challenges, and taking one step at a time to achieve a transition to green energy. In the face of intense global competition in the race to achieve net-zero emissions, Taiwan's renewable energy development, energy storage network construction, and grid resilience enhancements must gather pace, and we cannot look back.
After seven years strengthening our nation, Taiwan has become a Taiwan of the world
In addition to promoting reform, while facing the drastic changes in cross-strait and international affairs of these past seven years, we have done our utmost to develop the economy, strengthen our country, take care of our people, ensure national security, stabilize the situation across the strait, and garner global support.
Thanks to the hard work of our people over these seven years, Taiwan's economy has not only proven to be highly resilient, but has become a key force in the restructuring of global supply chains. The Republic of China has increased its national strength.
Our GDP has grown considerably from NT$17.5 trillion when I first took office and is forecast to top NT$23 trillion this year. In recent years the whole world has felt the full impact of economic stagnation and the pain of inflation. During this time, Taiwan's economy has been able to outperform the global average as well as the Four Asian Tigers, while maintaining greater price stability.
At the same time, we have maintained fiscal stability, allowing us to share the budget surpluses of the past six years with the people. In addition to distributing stimulus vouchers to encourage spending, we have initiated economic stimulus programs including cash subsidies, the TPASS, and increased rental subsidies to help reduce the burdens on everyday life. We have also stepped up our efforts toward balancing development in urban and rural areas and invested more in the industrial transformation of small- and medium-sized enterprises.
We have also given our all to promote the Six Core Strategic Industries, making major investments in infrastructure to facilitate a paradigm shift in Taiwan's industrial sector. Taiwan's particularly strong technology and manufacturing sectors have made Taiwan an indispensable actor in the global restructuring of supply chains.
Through these efforts, we have also reduced our over-reliance on a single market. Our exports to the United States have more than doubled. And this past June, we completed the signing of the first agreement under the Taiwan-US Initiative on 21st-Century Trade, a trade agreement that is both globally pioneering and conceptually innovative.
After more than seven years of hard work, our exports to New Southbound Policy countries have reached a record high. We have also deepened connectivity with Europe, as the European Union is now Taiwan's largest source of foreign investment. We are using our economic strengths to show the world the irreplaceable importance of Taiwan.
Ever since 2016, my administration has kept its promises and maintained the status quo. We have adhered to the Four Commitments. We do not provoke, we do not act rashly, and we will absolutely not bow to pressure. We have deepened our cooperation with democratic countries around the world as we work together to maintain regional peace and stability, acting as a force for good in the world.
When a typhoon caused heavy and disastrous rains across the strait, we expressed our heartfelt concern. When Türkiye experienced a devastating earthquake, we deployed our response effort to the very frontline. When Russia invaded Ukraine, we stood firm with Ukraine. And of course, we will never forget the virtuous cycle generated by democratic partners coming to one another's aid during the three years of the pandemic.
While obstacles have not ceased, neither have we stopped engaging with the world. Friendship between Taiwan and Japan is unwavering, and our relationship with the United States is rock-solid. Both diplomatic allies and like-minded countries have voiced their support for Taiwan on the international stage, and young people from various countries have spread the message of the Viva Taiwan campaign online.
Taiwan's democratic achievements have set a benchmark for the world. Our steadfast resolve stands as a global bulwark of democratic sustainability, security, and prosperity.
Calm and confident, making a continued contribution to regional peace and stability
Taiwan at this moment has become a Taiwan of the world. In geostrategy, the development of global democracy, and international supply chain systems, we are the most reliable, effective, and safest partner to the world. The strength of international support for us has reached an unprecedented height.
Since this is a time we can now face the world with confidence and resolve, we can also be calm and self-assured in facing China, creating conditions for peaceful coexistence and future developments across the Taiwan Strait.
It is my duty as president to safeguard our national sovereignty and the democratic and free way of life of the 23 million people of Taiwan; seeking peaceful coexistence, with free, unrestricted, and unburdened interactions between people across the strait. Taiwan, and furthermore both sides across the strait, should be enabled to contribute to regional peace and stability.
Let me reiterate that "peace is the only option across the strait. Maintaining the status quo, as the largest common denominator for all sides, is the critical key to ensuring peace."
Particularly, the international community has come to realize that peace and stability in the Taiwan Strait is an indispensable component of global security and prosperity. Neither side can unilaterally change the status quo. Differences across the strait must be resolved peacefully.
While persisting in efforts to ensure our sovereignty, democracy, and freedom, we must be grounded in a respect for historical facts, and continue to construct peaceful and stable cross-strait relations.
Today, many leaders of political parties and other distinguished guests are present. Competition between political parties is a daily reality of democratic politics, but our gathering together here presents a precious landscape of Taiwan's democracy.
I sincerely hope that after the competitive elections, we can set aside our passions, and together seek greater agreement, to build a fortress of unity as we face external challenges. I believe this is our shared responsibility to the country, regardless of political party.
We are willing to take the Taiwan public consensus as a basis, conditioned with dignity and reciprocity, and with a process of democratic dialogue, to develop with the Beijing authorities a mutually acceptable foundation for interaction and a path to peaceful coexistence.
I deeply believe that international support for Taiwan will only grow stronger. As the world is watching with concern and working to preserve peace and stability in the Taiwan Strait, we must grasp the moment of opportunity to manage risk and enable both sides to be contributors to peace. This is not only the shared responsibility of Taiwan's political parties; it is also an unavoidable historic responsibility and common mission across the strait.
Our country is moving forward, helping make the world a better place
My fellow citizens, whether it is the Second Taiwan Strait Crisis 65 years ago or the external threats we face today, we have always embraced togetherness and the conviction that everyone in Taiwan has a shared destiny.
Today, the Republic of China (Taiwan) has become the prevailing consensus of our 23 million people. This consensus is a convergence of the historical sentiments of different groups and the knowledge of the joys and hardships we have shared over the past 74 years.
It also shows that we are willing to come together and create the largest common denominator in order to foster unity, safeguard our country, and defend our free and democratic way of life.
In the midst of tremendous internal and external pressures, Taiwan's democracy has grown and thrived as a result of that willingness, and we have emerged with even greater resilience. We know that to protect Taiwan's democracy is to protect the universal value of democracy.
Thanks to our solidarity, we have brought the international spotlight to democratic Taiwan. With confidence, we will show the world that the Taiwanese people are dignified, independent, warm, and kind. The Taiwanese people are happy to be people of the world and will be a democratic and free people for generations to come.
I would like to thank the people of Taiwan for giving me two opportunities to serve as president of the Republic of China and to give my all alongside the Taiwanese people. From the depths of my heart, I am infinitely grateful.
Over the past several years, we have made achievements in governance, but there have also been areas where we have not met expectations. As president, I cannot shirk my responsibilities. This is a democratic country, and those in power can never be complacent. Each act of governance must bring the people greater satisfaction, and this is the goal of a government's unceasing efforts. My fellow citizens, my term will end on May 20 next year, but our country will continue moving forward.
I have no doubt that Taiwan, calm and confident, will continue moving forward. We not only want to give the world a better Taiwan, we want to make the world better because of democratic Taiwan.
I wish all the best to Taiwan. I wish all the best to the Republic of China. Thank you.
Enditem
Related News
➤ Tsai calls for 'peaceful coexistence' with Beijing on National Day
➤ Combat readiness needed to deter war: Legislative speaker
➤ Picture of flag-raising on Taiwan's highest peak attracts netizens
➤ KMT heavyweights absent from main National Day celebration event