After blaze, presidential hopefuls respond to firefighter safety call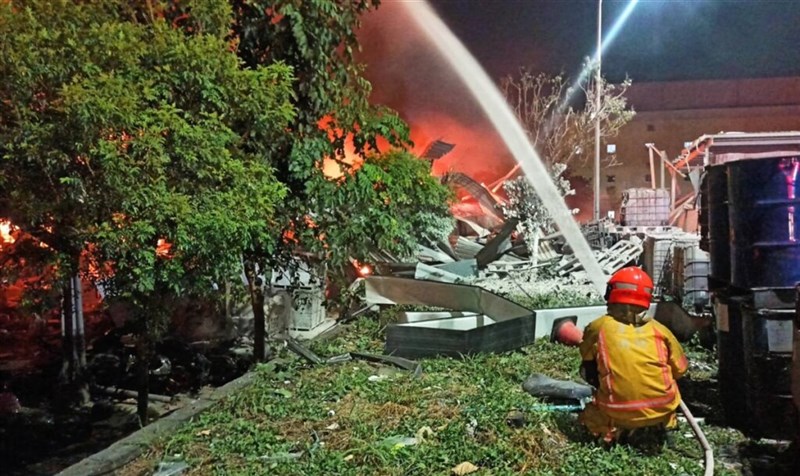 Taipei, Sept. 23 (CNA) Taiwan's four presidential hopefuls offered ideas Saturday on how to reduce the occupational hazards faced by firefighters, after a firefighters association called for better protection of their safety following a deadly fire in Pingtung County.
The fire and explosions that erupted Friday evening at a golf ball factory in the county left at least seven people dead, three people still unaccounted for as of 9:00 p.m. Saturday and 98 people injured.
Four of those who died are firefighters, prompting the National Association for Firefighters' Rights on Saturday to urge that firefighters be allowed to unionize and that more attention be given to their safety.
Over the past decade, 43 firefighters have died in the line of duty, and the government should introduce reforms related to firefighters' rights and work conditions to prevent similar tragedies from recurring, the association said.
It urged each of Taiwan's four presidential candidates to state their positions on the issue, and they all responded to the appeal.
In a social media post, Taiwan People's Party (TPP) chairman and presidential nominee Ko Wen-je (柯文哲) said a 2019 amendment to the Fire Safety Act mandated that factory owners had to give firefighters a layout of the premises and details on chemicals stored there.
In addition, designated personnel must be deployed to the scene of a fire to assist with a rescue, Ko said, citing the 2019 amendment.
Even with those two rules in place, however, Friday's accident still resulted in casualties, with an explosion reportedly occurring shortly after a crew of firefighters was sent into the compound, Ko said, adding that there needed to be accountability for the accident.
If elected, he would remove the legal hurdle prohibiting firefighters from being unionized, thereby improving their safety and reducing work-related fatalities, Ko said, without elaborating.
Other types of civil servants, such as teachers and Taiwan Railways Administration employees, have formed unions, which offer precedents justifying calls for firefighters to be unionized, Ko said.
He also called for the Occupational Safety and Health Act to be amended to cover firefighters, which would afford them the same protections as workers against work-related hazards.
Meanwhile, the campaign of Vice President Lai Ching-te (賴清德) said that if elected, Lai would discuss the union issue with firefighters at the grassroots level and try to reach a consensus on whether to amend the Civil Servant Association Act or the Labor Union Act.
Separately, Hon Hai Precision Industry Co. founder Terry Gou (郭台銘) said in a statement issued by his campaign that fire departments are understaffed, resulting in firefighters being overworked, and he proposed setting up special institutions to train firefighters to offset the manpower shortage.
He also said the equipment available to fire departments in rural areas is often inferior to that issued to their urban counterparts, and he would work to narrow this gap.
Another of Gou's proposals was to use advanced technology such as thermal imaging cameras and firefighting robots and drones in rescue missions, while calling for better enforcement of the 2019 Fire Safety Act amendment so that owners provide key information to firefighters.
Kuomintang (KMT) presidential candidate and New Taipei City Mayor Hou Yu-ih (侯友宜) said workforce shortages, insufficient equipment and funding, and inadequate support for bereaved families were all issues that needed to be reviewed after Friday's blaze.
Any agreements reached during any forthcoming discussions must be acted upon so that firefighters can feel confident when discharging their duties, Hou said, while vowing to enact laws that offer firefighters protection of their rights.
The government, meanwhile, was less receptive to the idea of unionization.
Premier Chen Chien-jen (陳建仁) said the unionization of firefighters would raise the question of whether to allow other types of civil servants to be allowed to form unions, and it therefore had to be carefully assessed.
The unionization of civil servants in principle is currently not legally allowed in Taiwan.
Further Reading
Sept. 23: Blasts in Pingtung factory fire not caused by firefighters: Officials
Sept. 23: Labor Ministry to investigate company hit by deadly fire
Sept. 23: Firefighter who died in Pingtung factory fire had planned October honeymoon
Sept. 23: Death toll from Pingtung factory fire rises to 5
Sept. 23: 4 firefighters killed, over 100 people injured in Pingtung factory fire
Sept. 22: Firefighter dies, over 10 trapped, 82 taken to hospital in Pingtung fire
Sept. 22: Firefighter dies, over a dozen injured in Pingtung industrial park fire