Agriculture Minister Chen Chi-chung's resignation accepted by premier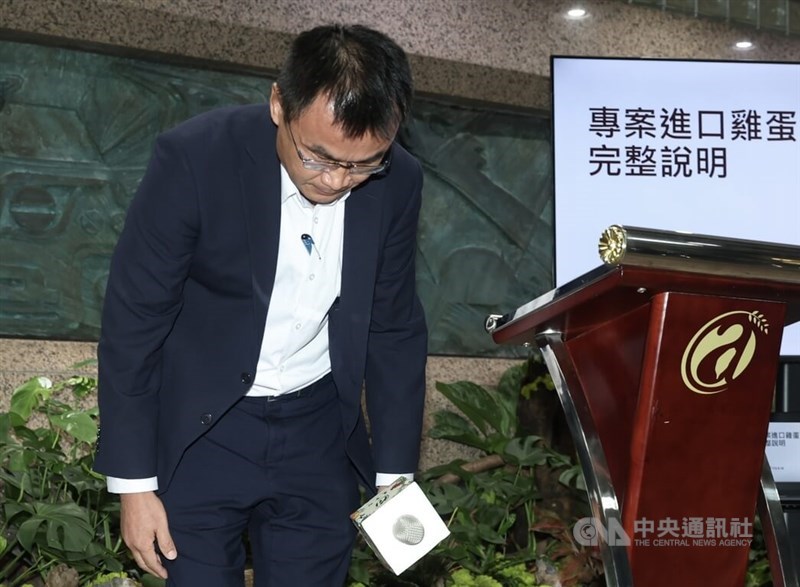 Taipei, Sept. 19 (CNA) Premier Chen Chien-jen (陳建仁) has accepted the resignation of Agriculture Minister Chen Chi-chung (陳吉仲), Cabinet spokesman Lin Tze-luen (林子倫) said on Tuesday.
Chen Chi-chung announced his resignation in a social media post Tuesday evening, citing the turmoil surrounding an egg import scheme the ministry launched to alleviate a national shortage earlier this year, though insisting the turmoil was caused not by the program itself but rather the way it has been characterized by critics.
In a statement to the media, Lin said the premier had accepted Chen Chi-chung's resignation, with effect from Thursday, and would appoint Deputy Agriculture Minister Chen Junne-jih (陳駿季) to lead the ministry on an acting basis.
The premier has also accepted the resignation of Lin Tsung-hsien (林聰賢), chairman of the National Animal Industry Foundation, Lin Tze-luen said, adding that the government-funded foundation would select a new chair at its next board of directors meeting.
The shakeup at the newly-inaugurated ministry comes days after Chen Chi-chung admitted that at least 54 million of the 145 million eggs imported by the government from March to July were sent to be destroyed due to their expiration, leading to accusations of financial waste.