ELECTION 2024
/
Terry Gou continues push to unite opposition, but mum on the bottom line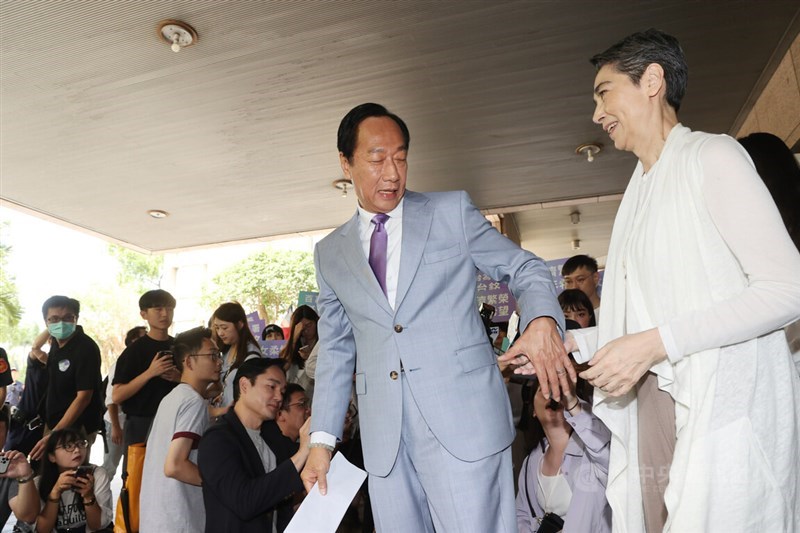 Taipei, Sept. 17 (CNA) Foxconn founder Terry Gou's (郭台銘) presidential campaign said Sunday that Gou is in the race to "unite the opposition," but declined to say if he would accept any arrangement that did not feature himself at the top of the ticket.
Campaign spokesman Huang Shih-hsiu (黃士修) made the remarks after Gou and his running mate, actress Tammy Lai (賴佩霞), registered to begin a signature drive to qualify for next year's presidential ballot.
Speaking to reporters, Huang said that while Lai is as important as anyone on Taiwan's political scene, she would be entirely willing to bow out from the race if Gou achieved his goal of consolidating the opposition.
If the Kuomintang (KMT) and the Taiwan People's Party (TPP) agree to nominate "the strongest presidential ticket," Gou will directly register as the parties' nominee, and there will be no need for him to submit signatures to get on the ballot as an independent, Huang said, without elaborating on how this would happen.
When asked whether Gou would insist on being part of any joint opposition presidential ticket, Huang told CNA that Gou's political movement, the "mainstream public opinion alliance," did not have any pre-set position on the matter.
However, Terry Gou is confident that he is the best candidate, and will engage in "healthy competition" to prove so, Huang said.
To qualify for Taiwan's presidential ballot as an independent, Gou will need to obtain the signatures of at least 1.5 percent of voters from the previous presidential election -- or 289,667 signatures -- by Nov. 2.
If he does qualify, he will also have to overcome recent opinion polls, which have shown him in a distant fourth with support at around 10 percent.
For months, Vice President Lai Ching-te (賴清德) of the Democratic Progressive Party has led presidential opinion polls, while Gou's competitors in the opposition -- the KMT's Hou Yu-ih (侯友宜) and the TPP's Ko Wen-je (柯文哲) -- have jockeyed for second place.
Gou launched his independent presidential run last month after unsuccessfully campaigning for the KMT's nomination, for the second time, and despite having quit the party in 2019.
When asked on Sunday about Gou's maneuvering, a KMT official responded the party's position "was very simple: the Kuomintang has its own presidential candidate, and it has strict party discipline."
The official, who asked to remain anonymous, said the KMT was planning to "give the cold shoulder" to Gou's efforts to unite opposition parties, though it will continue to monitor the status of his signature drive.
Taiwan will hold its presidential and legislative elections on Jan. 13, 2024.
View All