ELECTION 2024
/
KMT's Hou arrives in New York for 8-day U.S. 'journey of dialogue'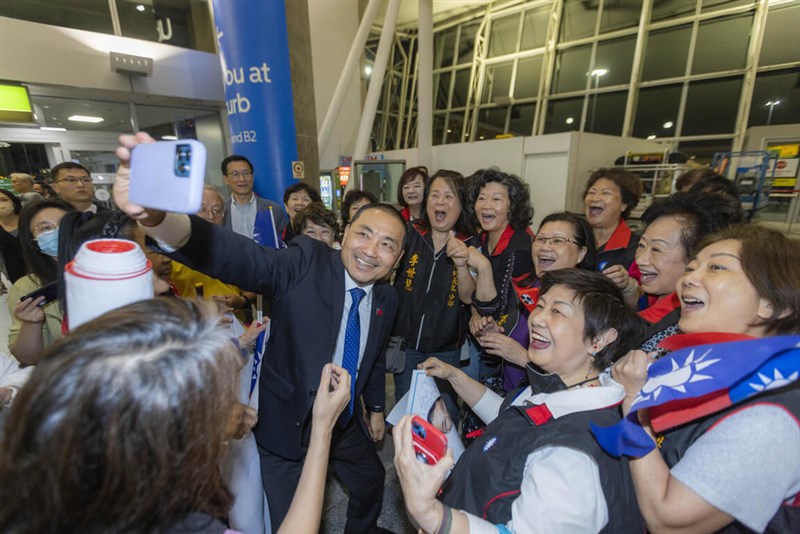 Washington, Sept.14 (CNA) Opposition Kuomintang (KMT) presidential nominee Hou Yu-ih (侯友宜) landed in New York Thursday (local time), for what his campaign office described as an eight-day "journey of dialogue and deepening friendship."
Arriving at 8:35 p.m. Thursday at the John F. Kennedy International Airport, Hou was welcomed by around one hundred people, including James Lee (李光章), head of the Taipei Economic and Cultural Office (TECO) in New York, Alexander Huang (黃介正), KMT envoy to the U.S., and Taiwanese expatriates in the city.
Meanwhile, American Institute in Taiwan (AIT) Chairman Laura Rosenberger welcomed New Taipei Mayor Hou's arrival in a social media post, stating that she looked forward to meeting him in Washington D.C.
Hou is scheduled to take part in two symposiums while in New York, one hosted by the National Committee on American Foreign Policy and the other by the Council on Foreign Relations, in addition to meeting with Joseph Kahn, executive editor of The New York Times, the paper's editors, and journalists from Bloomberg News, according to his campaign office.
The mayor will also meet with Taiwanese expatriates in New York and during a brief stop in New Jersey, the office said.
Hou will then visit Washington D.C. from Sept. 18-19 to meet with Rosenberger as well as scholars from the Brookings Institution and the Heritage Foundation and U.S. lawmakers, the office added, before heading to San Francisco.
Meanwhile, Hou's campaign office denied claims reported in the Financial Times (FT) Friday that the KMT candidate planned to push U.S. President Joe Biden to clarify Washington's commitment to defending Taiwan.
In a statement, campaign spokesman Huang Tzu-che (黃子哲) said Hou had responded "in jest" to reporter Kathrin Hille's questions during an "informal" conversation at a night market in Taipei.
Huang added that contrary to the reported conversation - billed by the FT as KMT candidate's first interview with international media since receiving the opposition party's nomination - Hou had no plans to push for clarity from the Biden Administration on Taiwan.
However, in a message on the LINE group chat run by Hou's office, Hille rebutted Huang's interpretation of events, describing the contents of spokesman's statement as differing from the actual circumstances of the interview and conversations she had with Hou.
View All