ELECTION 2024
/
Terry Gou announces presidency bid, touts business acumen as key asset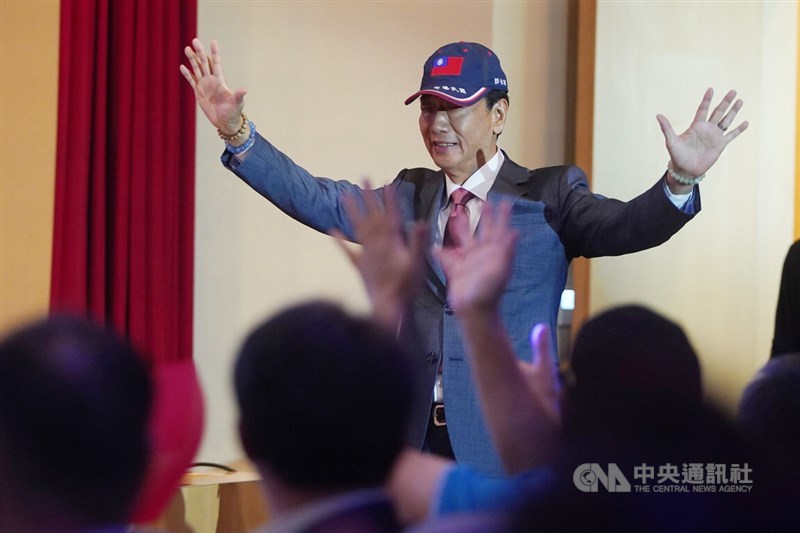 Taipei, Aug. 28 (CNA) Billionaire Terry Gou (郭台銘) announced on Monday his intention to run for the presidency in 2024 as an independent candidate, noting that he is the only contender with decades of business management experience.
Gou, founder of the Taiwan-based manufacturing giant Hon Hai Precision Industry Co., made the announcement at a press conference weeks after he proposed an alliance among the opposition parties in a bid to unseat the Democratic Progressive Party (DPP).
Explaining why he has decided to run in the presidential race, the tycoon said he has watched Taiwan's political and economic situation gradually shift from prosperity to "the edge of a cliff" resulting from the DPP government's incompetence.
Despite recent polls placing Gou in fourth place were he to declare his candidacy, the businessman characterized himself as "a representative of the mainstream consensus," highlighting his ability to leverage his business acumen to guide the nation forward.
Among all the presidential candidates, "I am the only entrepreneur with the practical management skills. I am an entrepreneur with nearly five decades of practical experience -- who else is better suited to lead Taiwan's political sphere [than me]?" Gou said.
Highlighting his expertise in finance and economics, Gou said that under his leadership, he would guarantee an economic growth rate that is more than double the current rate, starting in the next fiscal year.
National security
Addressing national security, Gou described the state of affairs in the Taiwan Strait and the dynamics between the United States and China as "precarious."
He said "I will not allow Taiwan to become the next Ukraine," drawing parallels between the security environment facing Taiwan and the war-torn East European country.
Gou promised if elected president, he would bring 50 years of peace to the Taiwan Strait and lay a solid foundation of mutual trust between Taiwan and China.
Gou said he would not give in when asked what he would do as a potential national leader if the Chinese authorities exerted pressure given his position as a major shareholder in Hon Hai, adding that if sacrificing his personal wealth could prevent the Chinese Communist Party from attacking Taiwan, he would be willing to bear such a burden.
Gou's rivals in the race
In the presidential election on Jan. 13, 2024, Gou will face Vice President Lai Ching-te (賴清德), who chairs the DPP, New Taipei Mayor Hou Yu-ih (侯友宜) of the Kuomintang (KMT), and Taiwan People's Party (TPP) Chairman Ko Wen-je (柯文哲).
Gou lost out when the KMT chose its presidential candidate earlier this year. At that time, rather than hold an open primary, the party opted to "recruit" Hou as its nominee based on polling data. Gou had expressed an interest in the position, but was not eligible based on party membership rules.
Gou had said he would support whoever the KMT nominated, but has since changed his mind and it is believed his candidacy could take support from Hou.
Analysis
While Gou said during the press conference that his candidacy is intended to facilitate opposition unity, You Ying-lung (游盈隆), chairman of polling institute Taiwanese Public Opinion Foundation, told CNA that Gou's move self-evidently heightened the challenge of achieving opposition unity and appeared to be advantageous for Lai.
The biggest impact of Gou's candidacy will be on Ko, argued Shen Yu-chung (沈有忠), a political science professor at Tunghai University.
Ko's appeal lies in being the third force, attracting those dissatisfied with the major parties, Shen told CNA on Monday.
Now the third force gains a new option, which could significantly challenge Ko, he said.
In addition, Shen said, Ko's support from younger voters could be heavily affected as Gou is adept at making enticing promises to the youth demographic, including fair housing policy, promoting youth entrepreneurship, and enhanced family support.
Gou's run as an independet
Having declared his intention to take part in the 2024 race as an independent, Gou now has to collect the signatures of at least 1.5 percent of the electorate in the last legislative election, which is about 290,000 signatures, within 45 days of his formal application to run as an independent candidate, according to the law.
Independent presidential candidates are required to file an official application to run and collect the required signatures from Sept. 13-17. Those signatures are then collected from Sept. 19 to Nov. 2 and the Central Election Commission (CEC) announces whether the candidates collected enough signatures by Nov. 14.
Presidential candidates register their candidacy for the presidential election with the CEC from Nov. 20-24.
Related News
Aug. 28: Terry Gou jumps into 2024 presidential race as independent candidate
Aug. 28: Terry Gou's decision to run for president 'deeply regrettable': KMT
Aug. 22: Terry Gou floats cross-strait peace strategy amid rumored presidential run
Aug. 18: Invoking 'Three Little Pigs,' tycoon Gou invites rivals to talk
March 27: With possible presidential run looming, Terry Gou to visit U.S.
View All